At the end of this endearing, briskly paced, inventive animated musical comes the complain: it lasts just over an hour.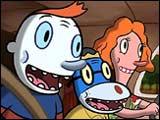 While many films have overworked scripts and need serious pruning, you wish
Teacher's Pet
could have offered more adventures of the dog Spot who had been waiting for a fairy to turn him permanently into a boy.
Disney has turned its popular Emmy winning TV cartoon series into a terrific film. With an instantly seductive score and upbeat feeling,
Teacher's Pet
could be a medium-sized hit in the theatres. But it could have a huge market on video and DVD. It also requires another viewing because it is packed with too many great gags and arresting visuals.
The film is targeted at pre-teens but it has immense attraction for the older audiences, too. For one thing, there is Nathan Lane whose terrific voice turns Spot, the blue-coloured dog and Scott the talented 'boy' into a constant delight. And then there are animation ideas by Gary Baseman (billed as the art direct here) that have turned Spot and several other participants in the film into curious and boldly colourful  looking creatures.     
| | |
| --- | --- |
| | More on Rediff: |
| | |



The lyrical world of Javed Akhtar

Special: What stars love to eat

Ash

opposite Brendon Frasier?

The Ek Hasina Thi review


Spot, the unusually gifted dog, has managed to 'pass' successfully as Scott who accompanies his master Leonard (Shaun Fleming) to school. Only Leonard and a few others in the house, including the big-mouthed canary Pretty Boy (Jerry Stiller) and family cat Jolly (David Ogden Stiers), know Spot's real identity.
Scott becomes the pet of the teacher Mrs Helperman (Debra Jo Rupp) who is also Leonard's clueless mom .
Meanwhile, Spot has been dreaming of becoming a real boy. He does not want to carry on with his double life anymore. When he hears a scientist called Krank (Kelsey Grammer) says he can transform insects and animals into humans, Spot begins of dreaming of meeting the scientist. He soon has an opportunity.
Spot gets a ride with Mrs Helperman and Leonard on their trip to the National Teacher Awards competition in Florida, that is also a home to Dr Krank. Everything does not go alright for Spot but there is plenty for the viewers to enjoy here.
Watch out for the sequence in which Spot poses as multiple members of his alter ego Scott's family.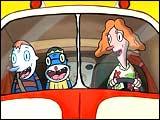 Another highlight comes when Spot, temporarily changed into man instead of a boy because Krank has not been able to create a formula for translating the dog years into the age of the humans. Now an old man, Scott runs the risk of romantically involved with Mrs Helperman. 
Kids will be filled with suspense as efforts are being made to turn Scott back into Spot.   
Before this fast-moving and colourful movie ends, the kids could have learned a few things about identity crisis, and the accompanying adults a whale of a time.   
CREDITS
Voices
: Nathan Lane, Kelsey Grammer, Shaun Fleming, Debra Jo Rupp, Jerry Stiller
Director
: Timothy Bjorklund
Writers
: Bill and Cherie Steinkellner
Art Direction
: Gary Baseman
Running time
: 1 hour 10 minutes
Rating
: PG for some mildly crude humour