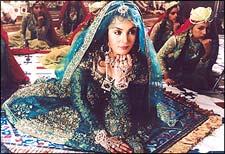 Bollywood directors have always had a soft corner for Mughal history. Akbar Khan is no exception.
He picked the making of the Taj Mahal for his theme and decided to weave in various interesting, if not enticing, facets of the empire -- fratricide, betrayal, lust for power and, most importantly, love. But what he failed to realise is that he would be dealing with a theme done to death not only in history books but in other media. This fact ought to have necessitated the use of out-of-the-world sets and special effects to leave an impression. Alas, the director chose to walk the other way.
The result is a dragging film marred by a faulty print (the film's first show at Mumbai's Fame Adlabs, in Andheri, had a delayed start and two forced intermissions apart from the usual one) capable of producing nothing but a leisurely yawn. In fact, the 20-odd people in the auditorium chose the film to chat with friends, SMS and catch up on an afternoon siesta.
The film opens with a battle for the throne between Aurangzeb and his three brothers -- Dara, Suja and Murad. Riding on his lust for power, Aurangzeb (Arbaaz Khan) defeats all and ascends the throne after imprisoning father Shah Jahan (Kabir Bedi) and elder sister Jahan Ara (Manisha Koirala). To an old, frail and dispassionate Shah Jahan, the pristine walls of the marble edifice become his only source of sustenance. He looks at the marble wonder and starts recounting the tale of his love Arjumand aka Mumtaz Mahal (Soniya Jehan).
The director deserves credit for touching upon some unknown historical facts, the schemes of Jahangir's wife Noor Jahan (well executed by Pooja Batra), her illicit affair with Jahangir aide Mohabbat Khan, and the passionate side of emperor Shah Jahan.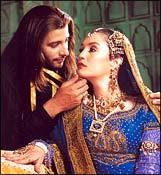 Surprisingly, one of the most expensive Bollywood films (it claims a budget of Rs 70 crore) fails to score as far as set design and costumes are concerned. In some parts, the sets look exquisite. In others, they look tacky (some of the royal pillars seem to be made of thermocole).
When a cruel Aurangzeb beheads his father's favourite Dara and sends his head to Shah Jahan, the severed head looks even less convincing than a mask bought at a rural fair. The jewellery worn by royalty looks downmarket. A question in one's mind crops up often -- where did all the money go? Even Khan's colleague Sanjay Leela Bhansali's Rs 500 million Devdas looked more opulent.
The screenplay lacks in terms of pace. Urdu words are cleverly interwoven so as not to hamper audience understanding. The songs are well thought out and evenly spaced, although reducing their number could have helped.
Some rivetting performances are all you get. Kabir Bedi's sophistication and baritone befit the old emperor, Zulfikar Sayed too impresses as his prince Khurram. While Pooja Batra puts in an impressive show as Noor Jahan, Kim Sharma as Ludli Begam merely reads out her lines. The best part belongs to Soniya Jehan, the beautiful Mumtaz Mahal. She exudes a natural charm and carries the film on her shoulders. Well, almost. One almost pities Arbaaz Khan as Aurangzeb. His performance, an apology for acting, makes him a bigger villain off screen than on. It's time he learnt the skills of his trade. Manisha Koirala as Jahan Ara has too insignificant a screen presence to deserve comment. Apart from expressing concern for her old father, she does little.
This Bollywood 'wonder' falls way short of audience expectations.