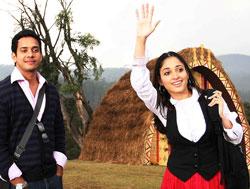 You'd think re-making a movie might be an easy job: you've got everything on hand, after all. The script's written, the music's set and every nuance has already been finely polished.

But it's close to tight-rope walking when you're bringing a cult classic into Tamil, and the effort shows in Sun Pictures' and Moserbaer's Kanden Kadhalai, the painstakingly re-made Jab We Met, directed by Jeyamkondaan-fame R Kannan. Naturally, expectations are sky-high and the director's done his best to match Imtiaz Ali's dazzling efforts.

In many ways, KK follows the Jab We Met formula in a near-perfect fashion. You have the opening shot of an intensely bland-looking Shakthi aka Shakthivel (Bharath), the MD of Rajaskar Group of Companies on the verge of a nervous breakdown: his mother's just walked out with her auditor, and he's in the middle of tough financial negotiations.

His complete failure at a love affair is the proverbial straw on a camel's back; he's just about ready to throw the towel, and gets onto a random train to Madurai when he runs into a little whirlwind called Anjali (Tamannaah), who could talk the hind leg off a donkey.

The girl is supposed to be from the land of sons of soil Theni (!), and makes sure you know it at every moment as she prattles on and on about everything under the sun, including her lover Gautham (Munna). His taciturn replies don't turn her off; she's intrigued more than ever.

The two run into situations fraught with hilarity and peril, sing songs (that simply don't fit in and hamper the pace) and finally end up at Theni, just in time to meet Anjali's impressively large family (Ratna, Nizhalgal Ravi, Azhagam Perumal and co), which doesn't seem to mind her revealing costumes at all, or the fact that she's suddenly brought a stranger to her home. The only one who seems to care is her morose grandfather (Ravichandran), who promptly does an about-turn and disappoints you.

Matters cruise along in this fashion: Sakthi settles slowly into Anjali's family (and no one at his office seems inclined to inquire the missing MD's whereabouts); she tries to set her cousin Roja (Sapan Saran) as his love interest and slam-bang in the middle of it all wades in Mokkai Rasu (Santhanam), Anjali's husband-to-be, and sets the scene for some hilarious moments, much appreciated by the audience which hoots with

pleasure.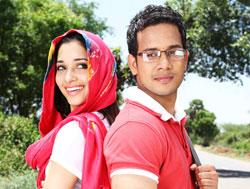 But paradise on earth can only last so long. Everything collapses on itself when Anjali's family decides to get her married to Mokkai Rasu and the ever-talkative girl hatches her next plan, in company of Shakthi, leading to a few interesting, and emotional situations.
So far so good. It would have been even better, if the second half had sustained the pace of the first.
You'd think, Tamannaah might be the incredibly odd one out in a Theni family but once you get past her North Indian looks, the girl actually manages to impress you with her acting. She's bright, bubbly, and despite some fits and starts, is pretty convincing as someone who always thinks positive, in the direst of situations. Chinmayi's voice suits her admirably. As for the emotional scenes, when she breaks down in Ooty; she genuinely packs a punch.
In contrast, it's Bharath who doesn't quite deliver with his usual panache. For a guy who's pulled of a few daring roles, he flounders except when he's the stoic, stern-faced MD. You suspect that this might be because of Pattukkottai Prabhakar's dialogues, which are all right when it comes to sentimental or even emotional scenes but fall short at bringing youthfulness and pep. And there's a faint North Indian flavour that takes a bit getting used to.
Barring Santhanam who delivers with his usual style, the rest of the cast doesn't have much to do.
P G Muthiah's camera is bright, colourful, and does its best to capture the romantic mood of the story, but Vidyasagar's music, both the background score and the songs are a big let-down. What happened to the guy who gave us such sensitive fare in Pirivom Sandhippom?
Thankfully, R Kannan's screenplay incorporates enough twists and turns that make you forget the flaws, and get you back on track whenever you're in danger of getting lost. This is the quintessential romantic story, and you haven't had many movies concentrating on love alone.
In comparison with Jab We Met, you might find the magic slightly wanting. On its own, though, Kanden Kadhalai has its unique moments. And for that, it's certainly worth a watch.
Rediff Rating: