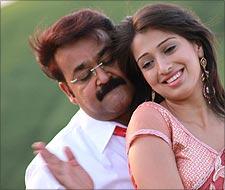 Paresh C Palicha feels Mohanlal is the only saving grace in Oru Marubhoomikkatha.
Director Priyadardarshan is considered to be out of form these days. So, what would he do to recover his reputation? He will try to go back to his best days and do the things he did right then.
Priyadarshan does just that it in his new film
Oru Marubhoomikkatha (Arabeem Ottakom P Madhavan Nairum in Oru Marubhoomikkatha
as it was titled first), but the outcome is far from happy.
He gets one thing right-- he casts his favourite actor and his partner in many mega-hits, Mohanlal. The mistake he makes is taking the best scenes from his old movies and weaving a new story around them. It doesn't work. We feel we are watching 'the best of Priyadarshan', and two-and-a-half hours of this, jangles our nerves.
But, our man Mohanlal becomes our saviour. He not only helps us sit through the ordeal but even succeeds in giving us few genuine laughs.
P Madhavan Nair (Mohanlal) is a middle-aged man who has come to toil in the deserts of the Middle East to fulfil his responsibilities to his family of two younger sisters who must be married, and a father whose debt has to be paid. He has neither found the time to get married nor to have a life of his own.
It goes without saying that he is golden-hearted
and honest to the core. So much so, that his filthy-rich boss (Shakti Kapoor), who splurges on expensive art (nothing less than Picasso will do), and beautiful women, shares with our hero the code of the locker where he stacks all his money, and promotes him to chief accountant.
Madhavan Nair falls for Meenakshi (Lakshmi Rai) who he meets in a jewellery shop, where they both select the same ring. As it happens, there is only a single piece and both are ready to sacrifice their choice for the other. They then spend the day together and cupid gets busily to work.
Going further with the story would be pointless; suffice it to say that a sidekick enters the story in the form of Abdu (Mukesh) and a cantankerous lady in the form of Eleena (Bhavana) taking us back to the good old
Killukkam
days. It is the interplay of these three, for the most part, that acts as the proverbial glue that holds the film together.
There are other comic cameos by Innocent, Mammokoya and the omnipresent Suraj Venjaramoodu in the latter half of the film. But, their presence is a pain rather than a pleasure.
What one can say with certainty is, do not judge any film by the three-minute teaser, particularly if it features Mohanlal, because he can salvage any film as he does this desert tale.
Rediff Rating
: