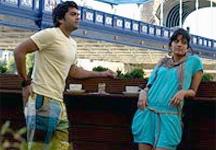 Pavithra Srinivasan saus that despite Varu's great performance, Poda Podiends in a disappointing fashion.
Young superstar STR aka Simbhu has returned with a breezy romantic entertainer,
Poda Podi
, produced by Hithesh Jabak and Gemini Film Circuit, and directed by Vignesh Shivan.
The film is a musical as well. It is more than just a run-of-the-mill youth flick.
Animation expert Arjun (STR), and dancer Nisha (Varu Sarathkumar) live in London with an uncle and aunt respectively. We discover their backgrounds, and understand what motivates them. We actually get invested enough in their stories to wonder what's going to happen next.
The love life of the couple enters a serious phase. They discuss their feelings, argue about what they want from life and run into problems. Nisha still wants to dance and enter the UK competition 'Let's Dance,' and make a career for herself.
Arjun suddenly discovers that he is, at bottom, a "
Pachai Thamizhan
" who believes that a woman's place is in the home (preferably the kitchen, but she has the freedom to walk from one room to another if she wants). Egos clash, fights erupt.
At this point the movie begins to meander somewhat from the interesting exploring of relationships among Tamils living outside India. Nisha undergoes extreme mood-swings, and her arguments and anger are often justified. Arjun exhibits many of the traits of a chauvinist without being able to justify them.
If this were all, it would still be good. But the battle between two people who love each other swiftly descends into cinematic platitudes and chaos.
The humour in the sub-headings work and you still wait for the best but you're disappointed.
The best never happens. You feel that Nisha has some justification on her side, while Arjun continues to feel that 'good Tamil girls should stay at home.' And then they practice
kuthu
dances.
The last hour and the climax are so rip-roaringly silly that you're left wondering if you were really watching just one movie and not two or three different ones, all reaching heights of madness.
Poda Podi
has been a long time in the making, and while STR is his usual flamboyant self, it's Varu who's the real show-stealer.
She comes across as a genuine, warm person, able and willing to accept those around her for themselves, and rattles off her dialogues with such spontaneity and charm that she wins you over right away.
Among a sea of heroines who simper and stumble their way through movies, she's refreshing; a perfect delight.
VTV Ganesh (as the uncle) is his usual humorous self, while Shobana seems to have no clear role except as someone who dances occasionally.
Dharan's music seems to echo other musicians at several points, and though pleasant, doesn't really linger.
Duncan Telford's cinematography is sparkling, especially in the Hong Kong Disneyland scenes, while Antony's editing is neat.
Points are undoubtedly due to Vignesh Shivan for trying to avoid the usual route of a romantic flick, and the dialogues are undoubtedly the movie's plus-point.
But you wish he'd actually carried the idea of a culture-clash through the film, instead of stopping it halfway, and riddling it with verbal punches and a cinematic ending.
Rediff Rating: