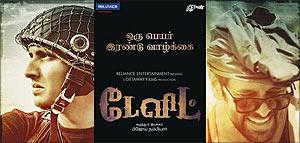 Kirthi Jayakumar says director Bejoy Nambiar indulges in spectacular cinematography, perfect editing and some amazing music in David's Tamil version.

Bejoy Nambiar's Tamil David brings together Vikram and Jiiva in the main cast, with Tabu and Isha Sharvani, Nasar, Rohini Hattangadi among others.

Armed with a rather intriguing concept, the film has been the cynosure of all eyes for a while now. The good news is that Nambiar's craft does not disappoint.

Replete with everything that a commercial flick will need -- action, punch dialogues, duets and stellar performances, David is a good watch indeed. The storyline is a matrix that weds two different parts of the world, two different eras, and two different people but with the same name, David, into a cleverly written script.
Set in 1999, is the story of 19-year-old David, played by Jiiva. He is a young musician, brought up by a family of rather staunch Christians in Mumbai. He is the quintessential young boy, buoyant and vibrant, bereft of any worries as he goes about life in his happy-go-lucky ways.
He nurses an ambition of making it big as a rock star, one that his guitar teacher (Lara Dutta) encourages and believes in. An opportunity of a lifetime presents itself before him -- but he must make a difficult choice as suddenly, his life takes a turn as his father finds himself smack centre in a political issue.
The second story traces the tale of David, a 30-year-old fisherman played by Vikram, set in Goa in 2010. Between getting drunk and earning a living in the heart of a fishing village in Goa, David has a painful story, for a long-time girlfriend leaves him for someone else. Absolutely bereft of any care for anyone, his life takes a turn when he falls head-over-heels in love with a deaf-and-dumb belle, played by Isha Sharvani.
Love for David is a blissful thing indeed -- but this one comes with a challenge. His lady love is engaged, and to be married to his best friend, Peter, in 10 days. Besotted with the beauty, his friend and he face a massive misunderstanding that drives them apart. Frenny, a friend of his, played by Tabu, comes to his aid.
The story proceeds to take us through the difficult decisions that face both the men -- for one, it is about saving the man who brought him up, and for the other, it is about coveting the love of his life. What do they do?
Well-scripted and executed in a way that only asks for appreciation from the viewer, David is a class act in motion. One wonders if there could have been anyone else besides these two, to play their characters in the film.
Isha Sharvani is simple and charming, while Tabu is her usual super-talented self. Sarika sizzles in the item number. The music by Dub Sharma, Bramfatura, Anirudh Ravichander, Maatibaani, Modern Mafia, Remo Fernandes and Prashant Pillai do great justice to the movie.
But what takes the cake is the stunning cinematography. Whether in the action scenes or in the transitions from one story to the next - the scintillating scenes makes viewing the film a grand experience in itself.
Nambiar has done a brilliant job with the film. Though wonderfully planned and executed, the movie has an edgy spontaneity to it. Each actor imbibes the quintessence of their characters into themselves, getting under the skin of the role they play with such flair that it is natural.
The characters themselves are realistic, and believable. Their emotional struggles and their reactions to the world around them are pictures painted with vibrant shades, rather than the disturbed and dark protagonist that one is wont to consider them to be. Thinking out of the box can sure get one ahead, and Nambiar has proved his prowess with elan.
Rediff Rating: