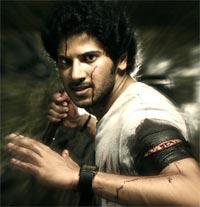 Paresh C Palicha feels that Malyalam film Dulquer Salman deserved a better debut than Second Show.

The depiction of criminal life is believed to be the winning formula in films. The leading man is the silent, brooding type who speaks rarely among many such features. The team behind
Second Show
sticks to the formula, for the launch vehicle of Dulquer Salman, son of Mega star Mammootty. Directed by newcomer Srinath Rajendran,
Second Show
is heavily inspired by Quentin Tarantino style of filmmaking, where wry humour is used as an undercurrent while blood and gore take centrestage.
The story revolves around Lalu aka Hari (Dulquer Salman), who works as a driver for the sand mining Mafia and slowly grows into a big criminal dealing with opium cultivation and distribution from the interior regions of Kerala. He has been brought up by his single mother, played by Rohini. There is hardly anything more to add to the story unless we take into account the stipulated crime story where a
Godfather
-like character, a few mandatory friends and a female lead (here it is his cousin played by newcomer Gauthami Nair) figure prominently.
Writer Vini Viswa Lal uses a stylised format with humour to make it look intelligent. In the beginning, it is Baburaj (who has been playing comic roles after the success of last year's surprise hit
Salt n' Pepper
)
as Chaver Vakachan, the local goon with a comic characterisation. There is marked effort to end every line of dialogue and every grim situation with a comic punch.
But what sounds the death knell for the film is the excessive blood and gore.
Dulquer Salman may have chosen this subject as his launch pad as it appears to be full of possibilities but the execution leaves a lot to be desired. There is no denying that he looks dapper and has an attractive baritone (a gift of his gene pool). But that does not translate into good performance or acting.
The supporting cast consisting of the hero's friends (mainly newcomers ) while a couple of veterans like Kunjan and Hindi actor Sudesh Berry are merely present as temporary stumbling blocks for our hero. Gauthami Nair as the leading lady has been given a predictable role where she is shown to be at loggerheads with the hero and romance blooms between the two in the latter part of the film.
Finally, we can only say that Dulquer Salman deserved something better than the war in the imagined ganglands as his first film.
Second Show
turns out to be a disappointing début for the star kid.
Rediff Rating: