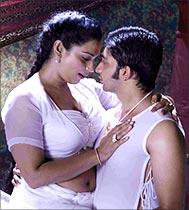 Paresh C Palicha feels the new Rathinirvedam fails to recreate the magic. Post YOUR reviews here!
Shwetha Menon is the boldest actress in Malayalam cinema today and does not mind playing a sensual role if required to do so. But in an industry where sleaze is all too often portrayed as glamour, there is a very thin line dividing the aesthetically pleasing from the really gross. Filmmakers, unfortunately, tend to take advantage of her liberal outlook.
The latest in the list is T K Rajeev Kumar, director of the remake of
Rathinirvedam
, the 30-odd-year-old 'coming of age' film that had been helmed by two stalwarts of Malayalam films, P Padmarajan (script) and Bharathan (director).
It is the story of a boy on the verge of adulthood infatuated by an older woman. His sexual awakening, which he suppresses, leads to a disastrous end. Thirty years ago, the theme may have been relevant because young men did grow up in a very insular environment and closed society. But today, it feels that it is just made to titillate.
Rajeev Kumar and Vinu Abraham, who are credited with reworking the script, keep the time frame and the story the same; they have just changed the location from a hill station to a rural hinterland with ducks floating on water and lots of greenery and vegetation (the quintessential 'God's Own Country' video). Manoj Pillai's sepia-tinted camera-work adds to the dated, old-time look of the film.
The eponymous Rathi (Shwetha Menon) is made out to be the epitome of sensuality; she oozes sexiness even when engaged in mundane chores, the camera moving slowly over her body. 
As for Pappu (Sreejith Vijay, who made his debut in Fazil's
Living Together
a few months back), he looks too old to be the innocent teenager just out of school. Most importantly, the chemistry between the two, essential for this kind of subject, is conspicuous by its absence and this is detrimental to the film as a whole.
Comparisons between the two versions would be odious, but they are inevitable. The old version worked because the performances somehow seemed sincere. Jayabharathi, the original Rathi, did not have the sculpted beauty of Shwetha, but she looked the part, as did Krishnachandran as Pappu.
The new version of
Rathinirvedam
may pull in the crowds because of the publicity, but it remains a cheap imitation.
Rediff Rating: