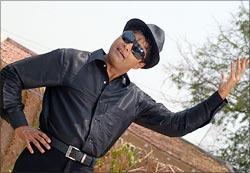 Kannada film Rambo is average, writes Srikanth Srinivasa
Popular Kannada comedian Sharan's latest film
Rambo
is a mixed bag with comical elements and some thrilling moments.
The film not only happens to be Sharan's 100th film, but also marks his foray into film production.
Krishna (Sharan) and his uncle Prem Kumar (Tabla Nani) unscrupulously sell and buy cars. He is an eligible bachelor who is keen to get hitched.
He has a crude way of interviewing his would-be brides. He meets his match in name of character (Madhuri) who agrees to the alliance. But, the car deals land him in trouble and his girl walks out on him even though he is keen to mend his ways.
Madhuri's friend plays mediator and unites the two lovers. The story takes off on another sub-plot
where a gang of terrorists are running for their lives but not before creating havoc.
There's a dead body in Krishna's car that he is unable to palm off and when he changes the colour and number plate of the car, it is mistaken for a former minister's missing car.
The rest of the story is about how the sub-plots come together. What is the truth? Who is Rambo?
The film lacks logic but raises a few laughs. Sharan keeps the audience in splits. Tabla Nani is the perfect foil for Sharan. 
Madhuri is adequate and so is Deepika who plays her friend.
Arjun Janya's music has a winner already in
Mane Tanka Baare
. S Krishna's cinematography is good.
Rambo
is an average family entertainer that defies logic but with some funny moments.
Rediff Rating: