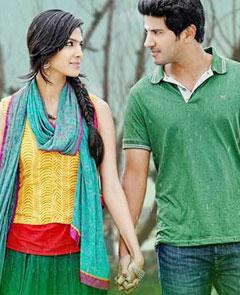 Debutante director Alagappan's Pattam Pole is unconventionally bold with the way it deals with the issue of live-in relationship.

When a cinematographer turns director, you can be sure that the film will have visual beauty if not anything else. This is true of veteran cameraman Alagappan who directs his first film, Pattam Pole.

Dulquer Salman and débutante Malavika Mohanan are in the lead. The plot is a typical love story with the visually enticing backwaters of Kerala as the backdrop.

The film shows the fickleness of young people who fall in and out of love at the drop of a hat. Karthi (Dulquer Salman) and Riya (Malavika Mohanan) run away from their homes in the backwaters of Kerala to the touristy Ooty, fearing that the elders in the family will not accept their inter-religious relationship.

They return to their respective homes after a couple of days after having a fight. They convince their loved ones that they hate each other. They have not consummated their relationship.

Their fathers, played by the Tamil actor Jayaprakash and Lalu Alex, now work to reunite their children who they understand have separated because of petty ego problems. Since the two youngsters have spent a couple of days together in a hotel room, their elders are worried about the implications of this to society at large.

One can find inspiration from films such as Aniyathipravu (1997) and Niram (1999)
here. The screenplay by Gireesh Kumar tries to make it engaging for viewers by keeping the story of how these unlikely youngsters came together and were attracted to each other, for the second half.
The first half is devoted to how they deal with the aftermath of the elopement, such as getting a job in the same event management company run by Michael (Anoop Menon).
Issues of the 'new generation' such as live-in relationships and casual dressing at work, surface. The film is unconventionally bold in the way it deals with these issues. One character, Sherin (Archana Kavi), is not only in a live-in relationship but even has a child from her partner. It is this section that saves this film from being a complete disaster.
Coming to the performance of the lead pair, Dulquer Salman plays yet another 'coming of age' character like he has played in
Ustad Hotel
and
ABCD.
His performance here is much more sober and toned down compared to the other films. Malavika's peppy girl act is far from being perfect but it shows promise.
Anoop Menon plays a character that does not require him to give the exaggerated performance usually expected of him.
Alagappan has tried to serve old wine in a 'new generation' bottle in his first film as director, and the end result is just average.
Rediff Rating: