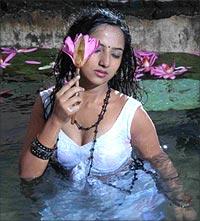 Pavithra Srinivasan reviews Tamil film Narthagi. Post YOUR reviews here!
It takes a lot of guts to film the sensitive subject of a transgender's first, tentative and very painful steps into the real world. S G Films' Narthagi has taken up the challenge and, under the direction of G Vijayapadma, manages to deliver a fairly engaging tale. And it is one that needs to be told, especially for the pain suffered by the lead character, and the steps she eventually takes, to make her way in the world with her dignity intact.

The story begins with Kalki (Kalki) a transgender who is a classical dance artist, recounting her life's story to a journalist.

Her life begins in Vilar, Thanajavur, as a young boy Subbu (Aswin), the son of a Silambam exponent (Karate Venkatesh) and a home-maker with a keen interest in dance. The boy grows up watching his mother, drawn to feminine adornments, and dresses.

He first discovers his attraction to his own sex as an adolescent, in itself an awkward episode. His cousin Meena (Leema) tries to engage his affections, but has no success. Matters explode when Subbu's parents come to know of this, and the boy, thrown out of his home, runs away.
It is after this point that the story actually picks up pace. You're shown the terrible strain faced by a young man who's confused by his sexual identity, and finds refuge with others like him in Mumbai. His gradual transformation into a woman, the pain he undergoes, both physical and mental, and his embracing of his identity is shown in neat and touching detail. A new world is thrown open to you, and it's a fascinating, although depressing, one. 
While Kalki, through whose eyes the story takes place, is comfortable with her role, it's the boy Aswin who walks away with honours. Whether it's his confusion at being attracted to another boy, distress that his parents don't accept him or final relief as he accepts who is, he's done a marvelous job. Leema has done well too, not to mention those who play Aswin's parents.
G V Prakash's music is melodious in places; Poovin Manam Poovil Illai lingers for a while.
Kesavan's camera takes up for a peek into a hitherto closed off society in Mumbai with ease. Thangavel Kumaran's editing is neat. Jana's art-work is creditable.
If anything, it's the screenplay that falters at many places. The pace lags and picks up randomly. The dialogues, while trying to sound honest, appear quite cliched at times and trite.
Still, Narthagi attempts to break new ground and address the pain of a community that has suffered for ages. It showcases the fact that humanity needs to rise above such prejudices and accord transgenders the respect they deserve. And for that, it needs to be watched.
Rediff Rating: