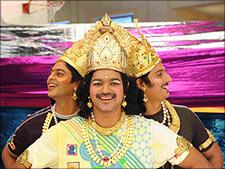 Pavithra Srinivasan feels that Tamil film Nanban is the perfect feel-good fare for the festive season, despite minor glitches.
Many eyebrows were raised when it was announced that the Hindi blockbuster
3 Idiots
would be remade in Tamil with Shankar as the director.
Remakes are always tricky, and if the lead actor is a big star, matters get complicated. However, it appears that with Gemini Film Circuit's
Nanban
(Friend), both Shankar and Ilaya Thalapathi Vijay have pulled it off.
For starters, there are no starry airs in the title credits, which is a welcome variation. The hero appears a good fifteen minutes into the film and, even better, there are no fights. Panchavan Paarivendan or Paari (Vijay), a first year engineering student in Ideal Engineering College, seems to be a bit of a rebel when it comes to learning and doesn't take his classes seriously. But it's the system he's against, not education itself.
Which cannot be said of his two friends Venkatraman (Srikanth) and Sevarkodi Senthil (Jiiva), who desperately want to pass every exam because that's what's expected of them. Thrown into the mix is Silencer (Satyan), an irritating know-it-all who always meets his nemesis at Paari's hands. And then there's the principal of the college, Virumandi Sandhanam aka Virus (Sathyaraj), who's out to get our trio.
In the midst of all this is Paari's emerging love affair with Riya (Ileana), a medical student. Of course, the fact that she's Virus's daughter only complicates things.
In many ways
Nanban
isn't really about events, plot-points or sudden twists; it's the story of two friends who see light in their lives through another.
Vijay as Paari is the life and soul of the story. This is the guy you desperately want to see on-screen. Vijay has, after quite a while, has dived into a role as a do-gooder who isn't very saintly. As Paari he's funny, honest,
and genuinely wants to see his friends happy. But he also happens to be a genius. It's a very appealing combination. There is less of dancing and fighting and more of feel-good emotions and humour. He is, frankly, a joy to watch.
Jiiva and Srikanth provide able support. The desperation in Jiiva's eyes and his frustration with his circumstances are very real. Srikanth, as the clear-cut "engineer-prototype" does well.
Satyan's turn as the Silencer brings plenty of laughs, especially with his speech on Teacher's Day.
Sathyaraj is more of a caricature, although he does redeem himself in certain moments and during the climax. Still, his character could have done with some more depth.
Ileana, despite having a couple of laugh-out-loud moments towards the end, is just eye-candy. There's no real purpose to her role.
Except for Ask Laska (picturised in tongue-in-cheek fashion) and perhaps
En Frienda Pola
, Harris Jeyaraj's music is largely unappealing. T Muthuraj's art work fits the bill, while Manoj Paramahamsa's camera work is slick, neat, and most importantly, non-intrusive.
The editing could do with some finesse too. At more than three hours, Anthony could definitely have wielded his scissors better.
The dialogues, written by Shankar and Karky, falter at times but scrape through even if they carry a good many platitudes.
You do see shades of the Hindi remake, but it has Shankar's touches as well.
Logic does go for a toss at times; there are moments when everything is too syrupy-sweet. The pace is jerky, and the voice-overs don't really serve much purpose.
And yet, it offers hope, and the promise of everything turning out good in the end. It's perfect feel-good fare. And Vijay is at his best. Worth a watch.
Rediff Rating:

Watch Nanban trailer here!