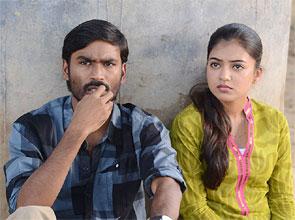 Dhanush starrer Naiyaandi, directed by Sarkunam, is a rural romantic comedy that lacks a good story and seems more like an amateur, half-hearted and a disappointing attempt.

Naiyaandi has one of the most happening actors of Tamil films, Dhanush, in the lead role. It is directed by Sarkunam, the National Award winning director of the critically acclaimed film, Vaagai Sooda Vaa.

Naiyaandi is produced by Five Star Films' S Kathiresan. The music is composed by M Ghibran.

Dhanush and Nazriya are supported by a host of other actors--Parotta Soori, Sathish, Sathyan, Sriman, Ashwin, Imaan Annachi, Manobala and Singampuli.

Naiyaandi is a romantic comedy in a rural setting. It revolves around the issue of the lack of eligible girls in the marriage market today.

Chinna Vandu (Dhanush) is the youngest of three brothers. His two older brothers, Sriman and Sathyan, are well past marriageable age, but unable to find suitable brides despite desperate attempts made by their mother.

Chinna Vandu, however, meets and falls in love with Vana Roja (Nazriya) while attending a temple festival at his uncle's village. When Vana Roja's father suddenly fixes her wedding and forces her to get engaged, Chinna Vandu and Vana Roja elope and get married.

Chinna Vandu hesitates to take
his bride home because news of his marriage would only worsen the wife hunting prospects of his brothers. The second half of the film deals with how Dhanush solves this problem.
Both Sarkunam and Dhanush are not new to the concept of comedy or romance, so we do not know how the film went so wrong. The comedy does not evoke spontaneous laughter, nor does the Dhanush-Nazriya love story touch your heart.
Dhanush jumps from tree to tree and leaps across wells to prove his love. There's a whole bunch of comic actors in the film, but all they do is appear at odd intervals.
There is the token villain who materialises only at the hero's convenience and seems to be more of a help than a hindrance. The film is full of old Tamil songs playing in the background, which truly gets tedious after a while.
Nazriya is the only bright spot in this otherwise drab film. She looks extremely pretty and does full justice to her bubbly energetic character, though at times it looks like she is trying to imitate the popular former actress, Jyothika.
Except for the
Teddy Bear
song sung by Dhanush, which has become hugely popular,
Naiyaandi
's music is average.
Sarkunam's
Naiyaandi
lacks a good story. A forgettable film with cliché-ridden situations, it seems more like an insult to both Dhanush and Sargunan.
Rediff Rating: