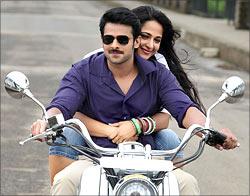 Radhika Rajamani says Prabhas is the heart and soul of Mirchi.
Koratala Siva in his debut Telugu film Mirchi, has ensured a mix of action, romance, songs and a bit of comedy to create a commercial venture totally revolving around the hero Prabhas.
Siva uses the age-old theme of factional rivalry which has been done to death on celluloid and borrows elements from other films, imparting a feeling of déjà vu among viewers.
Mirchi is high on action and loaded with high-voltage violence. The story, too, is familiar with two women vying for one male.
Jay (Prabhas), an architect, runs into Manasa (Richa) in Milan. Manasa, who comes from a family in Palnadu that is steeped in factional rivalry, is smitten by him. She comes to know that Jay has a past peopled by characters such as Deva (Sathyaraj), Vennela (Anushka Shetty), etc.
Manasa's family (comprising Nagineedu, Subbaraju, Sampath) is at loggerheads with Jay's. One has to watch the film to unravel who Jay is and piece the past together.
Koratala Siva has infused so much violence and gore into the story that one feels one is watching only action, barring a few songs and Brahmanandam's presence. Only violence or action need not be entertainment.
The screenplay is a mish-mash of several films. Siva has not shown much ingenuity in scripting the film differently. His dialogues are good, infused with humour here and there. And he has ensured an uber-cool Prabhas, much to the delight of the latter's fans.
Prabhas is the heart and soul of the film. Not only does he look dashing but also chips in with a good performance. He's the fulcrum around which the film revolves.
Anushka Shetty is bubbly and peps up the film considerably. Richa Gangopadhyay leaves her mark. Since it's Prabhas's show all the way, the characters of the two heroines are not developed in-depth.
Sathyaraj suits the role of Deva to a T and delivers a good performance despite having a small role. Nadia Moidu is elegant and dignified. Nagineedu, Subbaraju, Ajay, Supreet play their parts well.
Devisriprasad's music has already done well and is in sync with the film. On the technical front, the film is above average.
Mirchi is a regular potboiler with high-voltage action.
Rediff Rating: