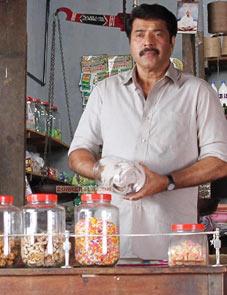 Paresh C Palicha feels Kunjananthante Kada is a half baked story which leaves us feeling something is amiss all the time.

National Award winning director Salim Ahamed has made his second film Kunjananthante Kada in the same template as his first venture, Aadaminte Makan Abu (2011), that was India's official entry for the Oscars that year.
But instead of the fable-like simplicity of his first film, in Kunjananthante Kada the director fills the narration with subtexts as if to justify the presence of a huge star like Mammootty.

As the eponymous title suggests, this is the story of Kunjananthan's shop, which threatens to be swallowed up by the development and the progress happening all around. Kunjananthan is not the simple man he appears to be. He married his lady love Chithira (Nyla Usha) by promising her a bright future, which means a government job or even pursuing the Gulf dream.

Instead, he has remained a grocery shop owner, continuing the legacy of his father. He is sentimentally attached to the stop and that does not allow him to think rationally even when his marriage is collapsing.

He is a Good Samaritan who lends money to the needy and extends credit to his regular customers who get their daily supply of essential items from him, instead of serving a new customer who will pay cash down.

Kunjananthan's world goes into a tizzy when he gets an eviction notice. The shop is to be knocked down to make way for a four-lane highway. At first, he tries to avert the calamity by any means, before learning to accept the new reality.

The film is intended to touch the sentiments and emotions of the viewer. But, the complexities and the conflicts of the characters are not convincing. Characters embark on long monologues to explain things, which can be tedious.

The camerawork by Madhu Ambat, though, makes the shop into a living character.
The actors try hard to be the part they are playing, but are not sure footed. Mammootty has done many roles where he carries a pain inside him. But as Kunjananthan he does not make the cut, whether it is his attachment to his shop or incompatibility with his spouse. Nyla Usha shows promise here as the cankerous wife.

Kunjananthante Kada, being one of the most anticipated films of the season, leaves us feeling something is amiss here, a soul perhaps.

Rediff Rating: