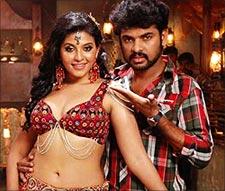 Pavithra Srinivasan says Kalakalappu fails to capitalise on either its cast or plot, and delivers only a few gags.
Director Sundar C is known for delivering movies in several genres, but it's obvious from one of his earliest hits
Ullathai Allitha
, that humour, particularly of the slapstick variety comes easily to him--a fact borne out by his acting credits as well.
Avni Cinemax's
Kalakalappu
(earlier titled
Masala Café
), his 25th film as a director, comes with a battalion of well-known names, but whether it actually satisfies the tag of a rollicking comedy is doubtful.
The pity of it is that it actually does have a meaningful storyline under all the slapstick mess: Seenu (Vimal), struggles with his ancestral hotel, Masala Café in Kumbakonam, once a famed enterprise but now a dilapidated wreck, cared for by an old chef and his grand-daughter, Maya (Oviya).
The three are perpetually short of funds. Seenu, deep in debt, battles Anjuvatti Azhagesan (Ilavarasu), when fate throws more bad luck at him in the form of the pretty Madhavi (Anjali), who lands him in even more trouble.
As if that were not enough, his brother Raghu (Shiva), the perpetual wise-cracker, arrives on the scene after a term in jail, and matters seem poised for a crackling comical enterprise.
Raghu does deliver a few one-liners and there are several gags that drag out a few laughs, but unfortunately, that seems to be it.
The story meanders
from serious to silly every couple of scenes, as though the director couldn't make up his mind which way to go. A pity as it starts out well enough. In the midst of all this is a parallel track with missing diamonds, after which Vettupuli (Santhanam) arrives suddenly, as Madhavi's groom-to-be.
It's almost as though director Sundar C sat down with several promising gags and simply built his story around them. Which wouldn't have been a bad idea, for he had the cast to pull it off.
Unfortunately, there's no clear direction, and the jokes don't come every moment either, with the result that everything ends in a Crazy Mohan-esque melee that's funny in the beginning, and then rapidly loses steam.
Vimal plays a meek man who can't lie to save his life, while Shiva earns some applause with his trademark deadpan delivery. Neither of the two heroines have much to do, as befitting ladies in any mainstream movie, and in this one, they've gone right back to the skin shows of yore.
Santhanam is his usual funny self, while Ilavarasu and Subbu work with what they have.
Vijay Ebenezer's tunes, though interesting, seem out of place in a movie such as this. U K Senthil's cinematography works well, and the SFX team has had its share of gimmicks too.
Kalakalappu
does have its funny moments, but only a few of them work. It doesn't look like Sundar C has capitalised on his cast, or his plot – both of which seem to have had potential.
Rediff Rating: