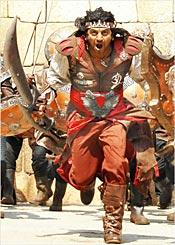 Shruti Indira Lakshminarayana feels Jogayya is no Jogi. Post YOUR reviews here!
The curious journey of Madesha from
Jogi
to
Jogayya
 unravelled on screens today.
Jogayya
, the 100th film of Shivarajkumar, released amidst great fan furor, tells the story of Madesha alias Jogi after his mother's death.
In
Jogi,
we saw Madesha (Shivarajkumar), who is from a small village, come to the city in search of a job and in the process become underworld don Jogi. Madesha is close to his mother who comes to the city in search of him. The film ends with the mother dying without meeting her son. It was the mother-son relationship that had made the film a huge success.
Jogayya
talks of what happens to Jogi after his mother's death. Jogi decides to cut off ties with the underworld and leaves for Mumbai. He even manages to find a job as a helper in a Kannada household. But it's not long before his unsavoury past catches up with him. The police catch him in Mumbai and bring him back to Bangalore. However, he is freed for lack of evidence. He then decides to take over the underworld. How long will he survive it this time?
Jogi
had enough action to please Shivarjkumar's many fans. But what had worked more for that film was the beautifully etched mother-son relationship. In
Jogayya,
director Prem does not want to let go of that theme, but he overdoes it a bit. 'Mother sentiment' rules the roost here too. There are enough and more musical echoes from
Jogi
to
remind us of the beautiful relationship that they shared. Added to that are the dialogues that harp on the value of a mother.
Those who waited six long years for Madesha to wield his machete in full force to destroy his enemies again, are in for a disappointment. Our Jogayya is very economical with the bloodshed.
Joggayya's
screenplay is not very powerful.
Jogi
came with a cross narration that kept viewers at the edge of their seats throughout the film. But in
Jogayya,
the narration is a hotch-potch. What's more, the story wavers in the second half. Political and media bashing take centre stage. Investing the same energy to refine the script would have been a better idea.
So what then lives up to the hype that was generated? Songs, undoubtedly. Harikrishna has done a fair job and all credit to Prem for having come out with different concepts in each song. His lyrics add value as well. He has put technology to good use too.
Why else would one want to watch the film? For Shivarajkumar. The actor has the same energy, innocence and aura of
Jogi
. His body language and expressions do the talking. He gets his emotions right all the way. He also experiments with his looks and costumes.
Pooja Gandhi is cast in small role. Heroine Sumeet Kaur is mostly limited to songs.
Jogi
was undoubtedly more powerful than
Jogayya
Rediff Rating
: