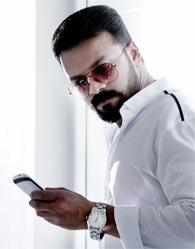 Paresh C Palicha says Hotel California has no plot and look like a half baked effort from director Ali John.


A question one often asks after watching some films is: "Why was this film made?" It's a question one definitely asks of Hotel California, directed by Aji John.


The script is by Anoop Menon, who also stars in the film together with Jayasurya. They duo were success in their last outing when they they put up a good performance in Beautiful (2011). Unfortunaltey they have not been able to repeat the same magic since.


There is no plot to speak of in this joke of a film. The multiple subplots that remain underdeveloped. The characters include a rich middle-aged man played by Shankar who spends lakhs of rupees to have a good time with a lowly TV actress. There is also a young lady who spends millions in order to be artificially inseminated by a superstar of Hindi films. There are some more such atrocious streams flowing through this film that are better left unmentioned here.


It seems likely that in making this film Anoop Menon is trying to get even with the detractors who criticised his film Trivandrum Lodge for being lewd and vulgar. One deduces this because references are made to this from the beginning to the end of this film. One is not against self-references, or people making jibes at others, but an overdose of it irritates after a while.


The film focuses on the underbelly of society. Whether it is movie piracy or cyber-sex or the libido of aged politicians or corruption in high places (a futuristic 5G scam), everything is used for the purpose of titillating, and nothing is probed in depth.


Jayasurya really gets a raw deal here as he is reduced to being part of a huge ensemble cast and his character of a high-end criminal is nothing to write home about.


It will be an understatement to say Hotel California would be best ignored.


Rediff Rating: