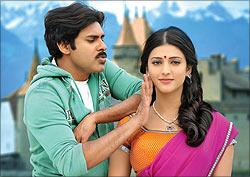 Radhika Rajamani says Gabbar Singh is entertainment unlimited for Pawan Kalyan's fans.
One cannot say
Gabbar Singh
is said to be a remake of the Hindi film
Dabang
but director Harish Shankar while sticking to the main plot, has adapted it considerably and made it look like a different product.
It's distinctly a Pawan Kalyan film made for the hero by a director who seems to be in awe of him.
Venkatrathnam Naidu (Pawan Kalyan), an avid watcher of
Sholay,
loves the villain in it Gabbar Singh (played by Amjad Khan) and so called himself by that name when he was young (played by Akash, Puri Jagannath's son).
His father died when he was three years old and his mother (played by Suhasini) marries Nagineedu who has an infant son.
Gabbar Singh grows up, becomes a cop and returns to his village on a posting. Here he encounters Siddappa Naidu (Abhimanyu Singh) who harasses the villagers and commits various atrocities.
Essentially the film is about the struggle between Gabbar Singh and Siddappa Naidu. The love interest is provided by Gabbar falling in love with Bhagyalakshmi (Shruti Haasan).
The film has the right dose of the staple ingredients-- action, comedy, romance, and songs, including an item number (
Kevu Keka
) performed by Malaika Arora Khan.
The second half tends to drag with the addition of scenes like the
antakshari
in the police station (unimaginable in reality).
In fact, there is quite a bit of cinematic licence in the way the police are depicted.
Bhagyalakshmi's character is not so well etched and neither is Ajay's (who plays Gabbar's younger brother).  
The dialogues have punch, though the censors have been busy cutting out bits. There a bit too much violence. The climax could have been tackled better.
Since the film rides on Pawan Kalyan it was imperative for him to perform well. He has done a good job.
Though Shruti Haasan didn't have much of a role, she has left her mark. Abhimanyu Singh played an impactful Siddappa Naidu though he was pretty sober compared to his previous baddie roles.
The role Tanikella Bharani plays was not suited to an artiste of his calibre. Brahmanandam as Recovery Ranjith was effective in breaking the monotony. So was Ali as Samba. Nagineedu and Suhasini had minor roles which they carried off well.
Devisprasad's music was in tune with the story. The film scored well on the technical front.
Increasingly films are being made in Telugu keeping the hero's image and fans in mind.
Gabbar Singh
is one such, catering to the fans of the hero and only incidentally to the general audience.
Entertaining it may be, but
Gabbar Singh
is filled with violence and some vulgarity and not meant for the very young audience.
Rediff Rating: