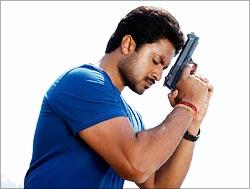 Srikanth Srinivasa says Kannada film Edegaarike has a gripping narration, excellent screenplay and an outstanding background music.

Director Sumana Kittur has made a film that is a refreshing change from the usual formula although it cannot be categorised as an art house film. Edegaarike has a gripping narration and an outstanding screenplay.

The story is about Sona (Aditya), a contract killer who comes to Bangalore to help Muthappa (Dharma), an underworld don in a killing.
Sona works for a Dubai bhai who has a planner in Tukaram Shetty (Achyuth Kumar) and Sona goes by what his Dubai boss tells him in going about killing people. Meanwhile, Muthappa's men are unhappy that an outsider has been hired for the job.

The story takes a turn when Muthappa tells Sridhar (Atul Kulkarni), his associate, that Sona is actually their target and that he has to finish him.

Does Sridhar kill Sona? This is revealed in a gripping screenplay in the end.

Aditya is brilliant and this performance will probably rank among his top performances.
Atul Kulkarni is superb as well.
Dharma is adequate but Achyuth's performance stands out.
Akanksha, as Sona's love interest, could have been better given that she did quite well in her previous outing Olave Mandara.

Sadhu Kokila's background music is superb and goes perfectly with the narrative and the mood. In fact, he has sung a song very well -- it has a distinct sufi touch to it. B Rakesh's cinematography is good.
Sumana Kittur and Sridhar who have been involved in writing and directing the film respectively have taken care not to show violence on screen despite making a film on the underworld.
The film has a brilliant screenplay and narration that keeps you on the edge of the seat. There's a romantic touch to the narrative, which forms the turning point in Sona's life and is quite interesting. However, dialogues could have been classier and stylish.
Edegaarike
is a film with a gripping narration, excellent screenplay and a brilliant background score which makes it a perfect edge-of-the-seat entertainer. Go for it!
Rediff Rating: