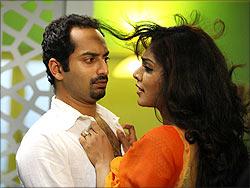 Paresh C Palicha says Fahadh Faasil is the heart and soul Natholi Oru Cheriya Meenalla as he carries the whole film on his shoulder with ease.
The turmoil that a writer goes through while creating characters and preventing them from taking a life of their own can be looked at from the philosophical to outright whacky way.
Director V. K. Prakash does it in a whacy way in his new film Natholi Oru Cheriya Meenalla written by Shankar Ramakrishnan with Fahadh Faasil in the lead.
This film bordering on being Avant-garde tells the story of a writer who has to work as a caretaker in an apartment building in Kochi for a living.
Preman (Fahadh Faasil) called Natholi (Indian anchovy) by all and sundry because of his physical stature. He is a writer in his free time and he uses his skills as a respite from thankless job. And, as it happens with every struggling writer, Preman too lacks the confidence to write freely. Once he even confesses to his co-worker that the characters are in place, but the story as a whole lacks binding or a conflict in technical terms.
We can easily guess that Preman gets his characters from the CCTV footage of the people living in the building, and he too tells us (in his voice over) that he does not miss watching television serials as everything shown there happens here. Soon, he gets the conflict too in the form of Prabha (Kamalini Mukherji), a petulant woman who is into the business of adventure tourism. She makes life hell for everyone around including that of our poor caretaker by shrieking 'Idiot(s)' at the top of her voice at any given opportunity.
Preman decides to bring in a villain in his story to settle scores with Prabha. He names the villain as Narendran, who happens to be a sophisticated version of Preman himself.
Shankar Ramakrishnan's script is sprinkled with self references and tributes, as it is common knowledge by now that the names of the three protagonists are taken from Manjil Virinja Pookkal released in 1980 marking the directorial debut of Fazil (Fahadh's father) and launched the career of Mohanlal, the megastar (this was his first release) who made his appearance as Narendran, the villain.
Directors like Aashiq Abu and Sameer Thahir, who have played an important role in Fahadh's success-story, are mentioned here. Even V. K. Prakash himself isn't spared for being obsessively prolific, coming out with a film every month.
We cannot miss the connection of Freaky Chakra (2003) here, a kind of indie film directed by V. K. Prakash with Deepti Naval in the lead and where Ranvir Shorey played a writer like Preman here.
If we want to look for glitches, we can ask how does Preman who isn't well educated make complicated mind maps and flowcharts delineating his story, that too using a white board and markers.
It is amazing to see Fahadh carrying the whole film by himself as a puppeteer with strings of everyone else in his fingers and his insecurity when he seems to be losing control over them.
Every other character seems to be doing a cameo including the leading lady Kamalini Mukherji. Rima Killingal is breezy in a friendly appearance of sorts. Jayan Cherthala as the yoga guru Shanthi does gets our attention.
Natholi Oru Cheriya Meenalla has to be watched for its whackiness and unadulterated laughter. Don't miss it.
Rediff Rating: