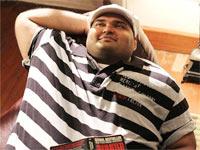 Paresh C Palicha says Da Thadiya is  full of emotion and entertainment.
This is an age where being overweight is considered a lifestyle disease and fat people in general are looked upon as oddities and made to feel insecure because of their appearance.
Director Aashiq Abu tries to change this perception in his new film
Da Thadiya
which suggests that it's okay to be fat as long as you have a good heart.
Luka (Shekhar Menon), is a young man in his mid twenties weighing 120 kg and happy with himself until he falls in love. He is the scion of a small time political family, whose only claim to fame is the fact that Luka's grandfather was once elected the mayor of Kochi.
His sons, played by Maniyanpillai Raju and Edavela Babu, carry on the legacy without any electoral success to speak of.
The happy go lucky Luka has dropped out of law school. He is, not surprisingly, a foodie to the core for which he gets unequivocal support from his grandmother played by Arundhati Nag.
His partner in crime is his cousin Sunny aka Shaddi (Sreenath Bhasi), a VJ cum musician for whom Luka is a saviour of sorts as he is the only person Sunny can depend on when he is in trouble.
The conflict quotient apart from food comes in the form of Ann Marie (Ann Augustine), who just para-drops into the story as Luka's childhood sweetheart and who coerces him to join an Ayurvedic and Yogic slimming programme run by Rahul Vaidyar (Navin Pauly).
This
suave 'new age' guru turns out to be an old world villain, who utters typical 'I am a bad man' kind of dialogues. We do not find any problem accepting this because this film is in the realm of fairy tales.
And, like in fairy tales, it shows that you don't have to be slim and trim to be a superhero; you just have to be a genuine person with a cherubic smile and the capability to give a cloud-like (a funny take on the film
Ivan Megharoopan
) hug even to your rival. If your goal is the common good of the people then you can achieve unprecedented success.
The script has a few more insider jokes on films and politics. The Hing-Manglish lines uttered by Sreenath have the potential of bringing the house down.
The message that slimming clinics are mostly run by quacks who wish to cash in on the vulnerability of fat people does not get diluted in the fun and frolics.
Shekhar Menon, who is a professional DJ, was born to do this role. Sreenath Bhasi who is physically in contrast with Shekhar becomes his able partner uttering some of the best lines in the film as the narrator of the story. Like its lead actor,
Da Thadiya
is fat on emotion and entertainment.
Rediff Rating: