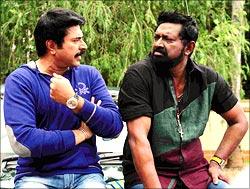 Paresh C Palicha says Malyalam film Cobra is a tedious watch.
It is Vishu festival weekend in Kerala and the Malayalam film industry is ready to cash in on people's habit of splurging on this occasion.
Cobra
, starring Mammootty and Lal is the big release of this weekend. It offers nothing much to the discerning viewer and just cashes in on the actors' star image. Directed by Lal himself,
Cobra
tells the story of non-identical twins who are nothing better than street rogues.
Cobra
has the same 'all brawn no brains' kind of leading men as films like
Thenkasipattanam, Thommanum Makkalum
.
They call each other brother and are collectively called
Cobra
as they always choose to live in places that begin with Co (example Coimbatore). If that is not weird enough, they are adamant about marrying siblings to further their bond as co-brothers!
Their latest targets are the daughters of Samuel (Lalu Alex), Sherly (Padmapriya) and Annie (Kaniha), studying medicine
in Bengaluru. Samuel is in need of money, so he sells the house to the brothers, but requests them to keep it a secret until his daughters complete their education.  
The premise does not inspire confidence and even the humour does not have the requisite fizz. Salim Kumar and Maniyanpilla Raju try hard to infuse some excitement by being the punching bags for the leading men.
Lalu Alex being the prospective father-in-law of the age- defying heroes feels like an inside joke.
Mammootty does not seem to be convinced about what he is doing in the film. Lal puts too much effort into his performance for the self-deprecatory humour to work and it falls flat most of the time. Maybe the dual responsibility of being in front of the camera and behind it has taken its toll.
The leading ladies, Padmapriya and Kaniha, can hardly be called so since they come in the picture almost at the end of the first half.
Lal's humour sounds recycled from mimicry artists in the past. And altogether
Cobra
is a tedious experience.
Rediff Rating: