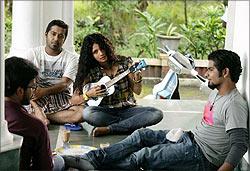 Malayalam film Cinema Company leaves a lot to be desired, writes Paresh C Palicha
Films are made of dreams. Dreams of fame, or money, or just a passion to do something different, or even to prove a point.  Director Mamas tries to explore these possibilities in his new film
Cinema Company
, where four youngsters jump into filmmaking just to prove a point to a new director who heard them criticising him in a coffee house.
The film begins with a young man Paul (Basil) who is in a seemingly successful, conventional career in Bengaluru, planning to reunite with three friends Fazal (Badri), Varghese Panikkar (Sanjeev) and Paru (Shruthi). He has not met them for four years.
Paul sells insurance but secretly wishes to be an actor. Fazal is a writer who leads a double life, writing saleable stuff on the one hand and something more substantial for his personal satisfaction on the other.
Panikkar carries a handycam everywhere, shoots whatever catches his fancy and edits it on his laptop. Paru is musically talented and composes jingles for a living.
Paul wants to revive and complete a film that was stalled four years ago (which feels rather silly).
So,
we have the four main departments of filmmaking covered. The characters are convincing individually; what needed to be worked on is their friendship and their common passion for cinema.
We are told that the four met at an international film festival and hit it off. As if to underscore the fact that they really love films, we are shown them obtaining 'first day first show' tickets of
Sivaji
and cheering like front-benchers inside the theatre.
Mamas tries hard to make the whole process interesting for us by using funny captions and thought bubbles and even gets director Siddique to quote from Paulo Coelho's best-seller Alchemist.
Things begin falling apart in the second half. It needs Baburaj's comic act to salvage some of it. There are allusions to buddy films
Rock On
and
Dil Chahta Hai
.
The four newcomers who hog most of the screen time look earnest and fresh. At least a couple of them will be in the big league if they are consistent enough. Basil is one of them. Sanjeev has an uncanny resemblance to Siddharth Bharathan.
Director Mamas shows a marked improvement in
Cinema Company
from his first film
Pappi Appacha
, but that still leaves a lot to be desired.
Rediff Rating: