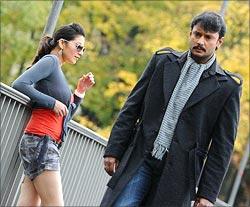 Srikanth Srinivasa feels that Kannada film Chingari is worth a watch.
Choreographer A Harsha's third directorial venture,
Chingari
, is definitely an improvement over his last two outings -- Geleya and Birugaali -- thanks to big star Darshan's presence in the movie.
Chingari
is about human trafficking and the attempts of a lovelorn cop to win back his lady love emotionally and physically.  
The film begins with Geetha (Deepika Kamaiah) blaming Parashuram (Darshan), a police officer, for her brother's death. She then goes off on a holiday to Switzerland with her friend Amrutha to forget the incident.
In Switzerland, they come in contact with an Indian who speaks Kannada and seems to befriend the two girls, only to tip off his bosses about the new arrivals. Both girls go missing, but not before leaving clues for our hero cop.
Cut to flashback. Geetha falls in love with Parashuram, without knowing that he is a cop. Her brother is a drug addict though she doesn't know this and when he is killed and she discovers that Parashuram is a cop, she mistakenly thinks that Parashuram has killed him.
Cut to present. Parashuram flies to Switzerland in search of his lady love. He meets an Italian girl (
Bhavana
) who speaks Kannada and with her help, he gets access to the den of the traffickers.
The rest of the movie is about how he manages to find and rescue Geetha from the clutches of the human trafficking mafia.
Darshan has been successfully transformed into a stylish cop
sans the khaki uniform. We get only occasional glimpses of his old self that brought him all the fame, so Darshan's fans may feel disappointed with this characterisation.
Deepika Kamaiah, a Miss India South finalist and model (
she featured in the famous Hero Honda Pleasure ad with Priyanka Chopra
) comes as a whiff of fresh air and does an adequate job for a newcomer.
The talented Bhavana has nothing much to do except one hot number. Maybe she agreed to do the role just to enjoy a good holiday in Switzerland.

The rest of the cast has nothing much to do: it's a Darshan film all the way.

Venu's camerawork is splendid and quite racy, especially in the chase and fight sequences. Yogananda has penned the dialogues. Music composer Harikrishna does not have much scope in a film like this. Harsha has also choreographed a few numbers, but has nothing new to offer.

Not much thought or time has been expended on establishing the characters. Although Darshan fans may feel a little let down because of his image makeover, the film is worth a viewing to see him in this new avatar.

The movie is quite racy and finishes quickly, leaving us little time to get bored. However, its portrayal of a serious issue such as human trafficking and flesh trade is superficial.


Technically, it is a sound film with good special and sound effects. Deepu Kumar has edited it quite well.                   

On the whole, the film is a good way of passing time.

Rediff Rating: