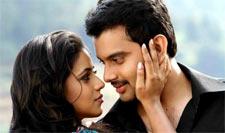 Paresh C Palicha says Chattakari is glossy but lacks an emotional core.
These days Malayalam cinema is running on two parallel tracks. On one we have urban tales (inspired mostly from foreign language films) that claim to be tweaking the formula, and on the other, the titillating films of the 1970s are being remade with young actors who are struggling to make a space for themselves in the industry.
The latest in the second category is
Chattakari
(
Julie
in Hindi), which made Lakshmi an overnight star in the '70s.
Santhosh Sethumadhavan (the son of director K S Sethumadhavan who directed the original) is trying to rekindle the same embers for today's viewers with Shamna Kasim and Hemanth in the lead.
The film is about the disastrous love story of an Anglo-Indian girl and a Hindu boy. Thoppil Bhasi's script based on Pamman's novel is said to have been tweaked a little by writer Vinu Abraham to suit today's viewers.
The story, the era in which it is set, and the characters, have remained the same but the narrative style has changed.
A vivacious young girl, Julie (Shamna Kasim), is very friendly with her neighbour Usha (Shelly), who is of the same age. Julie's father Morris (Innocent)
is an engine driver with a weakness for alcohol. Her mother Maggie (Suvarna Mathew) believes in maintaining a pompous lifestyle even if it means incurring debt.
There is a younger sister and brother (an elder brother pops up some time later), and Richard (Harikrishnan), who picks her up and drops her home on his bicycle and seems to be more than just a friend.
Enter Sasi (Hemanth), Usha's brother, who flirts with Julie, then woos her, and the inevitable happens.
This version of
Chattakari
has cut out the melodrama and added some gloss, but the question is: do we really care about the characters? The answer is no.
Shamna is sincere and soft, and tries hard to look like someone Sasi would fall for. Hemanth seems so confused, we wonder if he is sincere about Julie or not.
Maybe for the first time in his career, Innocent looks out of place. Every time he takes up a glass of alcohol, the statutory warning pops up at the bottom of the screen. It makes one wonder why there wasn't any warning about the dangers of pre-marital sex when the lead pair hops into bed!
Final words,
Chattakari
, the remake, may be glossy and spruced up, but it lacks the required emotional connect with the audience.
Rediff Rating
: