India's exports in July contracted 14.8 per cent, steepest fall in three years, to $22.4 billion, mainly due to the demand slowdown in the US and Europe.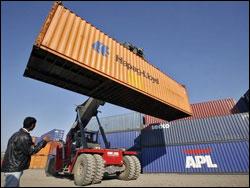 Reflecting slowdown in the economy, imports too declined by 7.61 per cent to $37.9 billion in July, leaving a trade deficit of $15.4 billion.
During the April-July period of the current fiscal, the country's shipments have shrunk by 5.06 per cent to $97.6 billion. Imports during the period dipped by 6.47 per cent to $153.2 billion.
Commerce Secretary S R Rao has said the European sovereign debt crisis is impacting the world trade and in the US markets too, demand is not picking up.
"Days coming ahead are tough," he has said.
According to trade experts it would be difficult to achieve the exports target of $360 billion set up for the current fiscal.
"Going by the trend so far and the continuous degrading global market condition, I have my grave doubts on achieving the exports target of this fiscal," Director of Indian Institute of Foreign Trade (IIFT) K T Chaco said. Chaco said that even market diversification "will alone not help Indian exporters till the major markets are down".     Last time when exports witnessed such a steep fall was in August 2009. They were down 23.5 per cent then.
Oil and non-oil imports in July declined by 5.52 per cent and 8.57 per cent to $12.22 billion and $25.7 billion respectively.
During the first four months of the current fiscal, oil imports grew by 2.76 per cent to $53.81 billion from $52.36 billion in the corresponding period last year.
However, non-oil imports during April-July 2012-13 dipped by 10.82 per cent year-on-year to $99.38 billion.