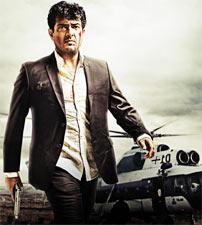 Yuvan Shankar Raja has infused certain freshness to the music of Billa 2, says Pavithra Srinivasan.
The music of IN Entertainment and Wide Angle Creations'
Billa 2
was released with relatively little fanfare on Ajith's birthday, on May 1.
With Yuvan Shankar Raja reprising his role as music director, and Na Muthukumar providing the lyrics, here's a listen at the album:
An ominous death knells kick off
Gangster
, with the refrain "
Gang-gang-gangster
" and, of course, it plays
Billa
's signature tune to the hilt, with Yuvan Shankar Raja and Stefny providing the vocals. The lyrics are purely functional and the rhythm reigns supreme. The second interlude, particularly, is appealing.
The first few notes begin in a shower of musical notes; Shweta Pandit provides the vocals for
Idhayam
, and this one is a romantic melody carrying some of the haunting notes Yuvan is most comfortable with. With a classical flavour to it, the tune seems to meander for a while, as though seeking direction. Sweet, but also oft-heard.
Yedho Mayakkam
almost begins like a marriage song, but there's a pep and feeling of happiness.
Tanvi Shah's enthusiasm is infectious. Post this, the song goes completely synthesised, with Yuvan Shankar Raja and Suvi Suresh stepping in to add to the crashing beats. A catchy number.
What begins with a Middle-Eastern theme develops a hint of folk music as well; the fusion works well, especially with Andrea Jeremiah's voice.
Madurai Ponnu
, like the others, comes with a heavy dose of synthesised music, but conjures up visions of belly-dancers with startling clarity.
Ranjith's
Unakkulle Mirugam
, sounds appropriately menacing, quite possibly the harbinger of a man's metamorphosis into a fan and is filled with thundering beats. This one too, plays upon the
Billa
theme. The lyrics are much more powerful than in the other songs; they stress the realities of life and strike a chord within you.
The
Billa 2
theme is expectedly chilling; the right hint of mystery, menace, and the shadow of doom. Yuvan Shankar Raja plays upon the
Billa
signature tune.
To give credit where it's due, he has attempted to infuse freshness at certain points though you wish he had done so all the way.
Billa 2
is worth a listen.
Rediff Rating: