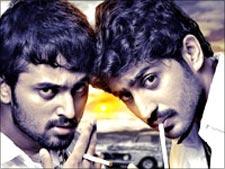 Paresh C Palicha feels Bangkok Summer fizzles with disappointment. Post YOUR reviews here!
Malayalam film
Bangkok Summer
directed by the Pramod-Pappan duo has comparatively new faces, among them Richa Panai, Rahul Madhav (who were seen together in the eminently forgettable
Vaadamalli
) and Jaikrishna.
The film's makers spare no effort to dazzle us with scenes of the night life of this international tourist destination, before showing us its seamy underbelly. It seems like the city is ruled by a mafia and blood is liberally splattered around day and night.
Sreehari (Rahul Madhav) lands in Bangkok in search of brother Madhavan (Jaikrishna), who was doing some business there and has been out of touch for three months. Their mother is on her death bed and wants to see her son. Sreehari finds Madhavan inside a punching bag (yes, really) in a restaurant being punched by two hefty guys who seem to derive much amusement from
this form of entertainment. Madhavan's story is that he vanished from sight in order to save a sweet Malayali girl Ganga (Richa Panai) from the mafia, and landed himself in a load of trouble.
Rajesh Jayaraman tries to weave a plausible yarn, but it doesn't work out as intended. And, to add to our woes, there is a twist at the fag end of the movie that makes one wish one was somewhere else.  
Technically, the film has the look of a richly shot music video, and a very loud one at that.
The gangsters' faces are tattooed and they are given weird hairdos, doubtless to make them look menacing, but alas, they do not.
The three lead actors have screen presence, but there is little for them to do. Agreed, Richa Panai and Rahul Madhav have got a better opportunity here than in their first outing
Vaadamall,
but good looks and screen presence do not amount to good acting.
The promos of
Bangkok Summer
promised something much better than the torture one has to endure.
Rediff Rating
: