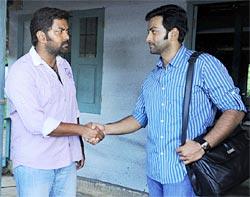 Malayalam film Akashathinte Niram is a visual treat, writes Paresh C Palicha
It is only once in a while that we get to see an internationally recognised film that has a commercial release. So, there is some excitement as one settles down to watch
Akashthinte Niram
, the only Indian entry in the recently concluded Shanghai International Film Festival.
The film is directed by Dr Biju with Indrajith and Amala Paul in the lead and Nedumudi Venu playing a pivotal roll as an old man.
The film tells the tale of the transformation of petty pickpocket (Indrajith). He tries to rob an old man (Nedumudi Venu) in his boat. The shrewd old man asks him whether he knows how to pilot a motor boat or to swim. He then takes off with him in the boat to an isolated island where he has a house.
There live a child played by master Govardhan, a domestic help (Anoop Chandran) and a mute young girl (Amala Paul) who does the cooking and other household chores.
In the beginning, the young man is anxious and feels claustrophobic in the new environment. He doesn't know why he is being held captive on the island.
He vents his frustration in violent ways by breaking things and even hurting himself and others physically. When he doesn't get any reaction, he is reconciled to the situation and actually starts liking
the way of life in this self contained world with no real contact with the outside world.
Akashathinte Niram
is shot on the picturesque Neil Island in Andaman and Nicobar and has won M J Radhakrishnan the Kerala State Award for best cinematographer. The photography gives the film a lavish feel.
The film is almost silent, with characters not speaking for long stretches of time. It depends on the actions of the characters and the movement of the visuals to hold the viewer's attention. 
This somewhat meditative treatment runs the risk of distancing the viewer. One can see the influence of the Japanese master Akira Kurosawa's
Dreams
and South Korean director Kim Ki Duk's
Spring, Summer, Fall, Winter... and Spring
here.
One can also see that leaving the characters nameless is becoming Dr Biju's stamp: every character was nameless in his previous film
Veettilekkulla Vazhi
.
Since this movie has no dialogues, the actors have to communicate to the audience through their expressions. We can see the transformation happening in Indrajith's character in every scene and the monk-like behaviour of Nedumudi Venu. Prithviraj appears in a cameo, but that is not surprising as the audience is aware of his presence beforehand.
In the end, we can say that this visually grand film is meditative in nature and silently attractive.
Rediff Rating: