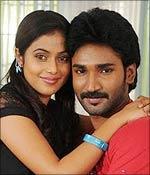 Pavithra Srinivasan reviews the Tamil film, Aadu Puli. Post YOUR reviews here!

Ever since Vijay's blockbuster Ghilli set the box office on fire years ago, every mainstream movie-maker worth his salt has been trying to replicate the success story of a a hero who tops the villains not just by his brawns, but his brains as well.
The latest to join the list is Global Infotainment Pvt Ltd's Aadu Puli, directed by Vijay Prakash. Yet again, a formula is followed; like many before, this one crashes and burns in a spectacular fashion.
The setting is standard, a village milieu which has the usual vazhukkumaram, local festivities and a hero who practically vaults over the entire village before landing on the slippery log with ease. This is how you're introduced to him and his pretty, ideal and cinematic family. He's Idhayakkani (Adhi), his father is Bakkiyanathan (Prabhu) with an obsession for MGR and his films (his children are named after those), wife Kalaiyarasi, and daughter Rani Samyuktha. Bakkiyanathan's parents are Ravichandran and K R Vijaya, and according to the time-tested custom of grandparents in Tamil cinema, have nothing to do but smile, wear expensive clothes and apparently sit on rocking horses at their familial home.  
It's never quite revealed just what Idhaya does for a living; he roams around the city with his friends (Srinath and Co), meets a pretty Anjali (Poorna) as he asks her for a lift to the hospital, and ends up walking into a movie theatre instead, thus earning her undying hatred. Equally promptly, this turns into love with no rhyme or reason.
On the other side of these humdrum happenings is minister Thillainayagam (Suresh), clad in virginal white and who has his own unique code of killing and maiming. With his eye on the Chief Minister's chair, he won't brook opposition. In short, he's the very image of a cinematic villain.
Like every formula film, the two soon clash -- and instead of using his god-given intelligence and playing a keen game of "aadu-puli," as the title indicates, the hero simply bashes the opposition like a freight train, an act that puts all the world's super-heroes to shame and makes you wonder why he hasn't brought in World Peace yet.
Aadhi certainly looks the part of an action hero, and makes you wonder what happened to the guy who played the protagonist in Mirugam and Eeram with panache. He, like many before him, has been bitten by the star-bug, and it looks like he won't be free of its effects any time soon. Poorna has nothing better to do than wear heavy makeup and sing songs. Suresh has had a ball playing the evil villain, while Prabhu is his usual, dignified self, and possibly the only one who adds some pep to the proceedings.
Sundar C Babu's music is no great shakes. A movie of this sort relies on mind-numbing action but there's nothing much to speak of regarding technical prowess.
Aadu Puli is just another masala flick that's simply not spicy enough.
Rediff Rating: