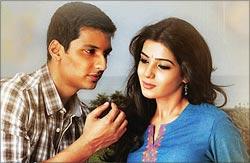 The music of Tamil film  is pleasant, writes Pavithra Srinivasan
Gautham Vasudev Menon is back with RS Infotainment and Photon Kathaas'
Needhane En Pon Vasantham
(You are My Golden Spring), a title that forms part of a classic romantic chartbuster of yesteryear.
It is also the first time he joins hands with maestro Ilaiyaraja, the master of melodies, whose romantic numbers defined the seventies, eighties and nineties. He blends his music with the words of Na Muthukumar.
Here's a quick review of the album:
Gentle guitar strings kick off
Saindhu Saindhu
as Yuvan Shankar Raja begins the song. Female lead Ramya NSK arrives in the middle of the song.
The lyrics fit the bill, musing upon the many splendours of a loved one. It's safe to say that the interludes are far more appealing than the vocal segments with their instrumental arrangements, especially the violin.
Katrai Konjam
begins as vintage Ilaiyaraja as Karthik goes all out, bringing out an eighties romantic number, complete in every note.
Ominous notes kick off
Mudhal Murai
, rendered by the surprisingly solid voice of Sunidhi Chauhan. It takes you aback a little with its aggressive onslaught. It's a radically different number.
The chorus of
Vaanam Mella
kicks of melodiously as Ilaiyaraja blends his voice with Bela Shinde to provide a song that flutters around on romantic wings. It's a throwback to his Pithamagan days -- soothing, but oft-heard for all that.
Pudikkala Maamu
is
a lot more youthful with its ranting and raving about colleges, books and how tiresome the teenage years are.
It's a perfect recreation of the early nineties Raja college numbers, sung by Suraj Jagan and Karthik. Later, the track changes abruptly to a folksier tempo. It's nostalgic certainly, but not really scintillating.
Karthik sings
Ennoda Va Va
, the Ilaiyaraja number that ticks all the boxes: nostalgia, gentleness, romance, and a gentle humour not to mention a steady beat that never intrudes upon the vocals.
Yuvan Shankar Raja starts off
Pengal Endraal
with a yell, a rant against women, love and other such gentler emotions.
It's full of synthesised music, plenty of anguish, and embodies aggression in every way, though some gentleness puts in an appearance occasionally. It doesn't quite rouse you to the same passion.
Satru Munbu
begins quite dramatically but settles down to something mellower, and Ramya NSK's voice is very effective in expressing anguish. Easily the best number of the collection.
It's been touted as the album which sees the maestro back in the saddle of Thamizh film music, so to speak. Certainly,
Needhane En Pon Vasantham
's numbers are vintage Raja, and bring a sharp sense of nostalgia, what with their skillful instrumental arrangement. But pleasant as they are, they don't quite achieve the brilliance we have come to expect from him. Perhaps that's a case of expecting too much from a legend.
The album may not be scintillating, but it's a pleasant listen.
Rediff Rating: