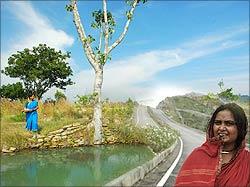 Shruti Indira Lakshminarayana says Kannada film Puttakana Highway is moving but may require your patience to get to the end. Post YOUR reviews here!
Directed by B Suresh,
Puttakana Highway
is inspired by Nagathihalli Chandrashekar's book
Puttakana Medical College
.
The film is about farmers who give up their land to facilitate the construction of a highway that is set to pass through their village. While some villagers succumb to the lure of compensation (New road for their new car is their logic!), others like main protagonist Puttaka decide to brave the government.
For Puttaka, a widow, her land is just not her livelihood but also a place where the body of her husband has been laid to rest. Will she then be able to protect her fertile land from the 'grabbers'?
Puttakana Highway
documents the plight of many a farmer who has had to sacrifice his/her land in the name of development. The thought provoking plot not only highlights the after effects of displacement and development but also goes on to expose the how and who of development. It clearly shows how development, in this case highways, are out to cater to the needs of urban India and that too by trampling over the basic necessities of its rural counterpart.
The film makes obvious references to the NICE Road between Bangalore and Mysore and the politics surrounding it. It shows the desperate attempts of poor farmers to save their land on one side and the manipulations of rich landlords who get the road diverted using their clout and finances so as to retain their property.
The film also attacks the double standard attitude of governments that work for their own benefit than that of the people who have brought it to power. The changing mindset of the farming community which now considers business as a better bet than agriculture is also brought to the fore.  The inaccessibility of chief ministers even during their so called public meets; the impact of the change in governments and the nexus of private construction companies and local authorities and leaders are also well captured.
The
film displays sensitivity through various imageries say for instance a road, on which village kids rolled tyres with sticks in their hands as a game, is today shown as a pay and use highway for motorists.
Puttaka sitting in a dismantled car being transported on a bullock cart also speaks volumes. The film moves you at places where villagers who would have resisted land acquisition are later shown working at the highway construction site for an earning!
The film also does good by showing how many farmers who are tilling a certain land lose the right to question its acquisitions simply because they don't own the land and they have very little say as the owner who has leased the land to them would have already handed it over to the government in return of a compensation. A scene where a young couple enjoys zipping on a highway oblivious to the fact that farmers have paid with their cultivated land is also of significance. The film also hints at the impact of this so called development on women.
Performances by lead actors carry the film farther. Shruti, who's known for her performances, gets to try something new. In fact like one of the dialogues state, there is no time to shed tears this time for her!  The actress comes out with an understated and classy performance.
Veena Sundar, Achyutha and Ninasam Ashwath do a great job too. Prakash Raj as the diplomatic Shani Krishna does a great job. Dialogues by Suresh, lyrics by Yograj Bhat and music by Hamsalekha help in carrying forward the mood. 
While some may not question the timing of the film given that more compensation is being demanded in such cases even today, what may bother others is the turn Puttaka's fight takes. You may choose to either look at it as a 'as real as it gets' situation as it's no joke to access government officials or feel Puttaka with her determination could have put up a stronger fight.
 The pace of the film will require patience from your side but then again
Puttakkana Highway
is a story that spans over 16 years, not to forget that there are no short cuts while fighting for justice!
Watch
Puttakana Highway
to understand the other flip side of development.
Rediff Rating: