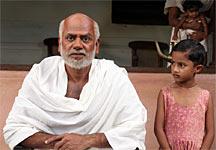 There are people who have the might to change the course of history, the perception of a society, and eradicate ignominious rituals and unjust traditions.
They show the way of progress and becomes a beacon of hope for the downtrodden. One such person is saint/reformer Sree Narayana Guru who was instrumental in making Kerala society into a developed state.
A biopic on him directed by Yugapurushan director R Sukumaran is aptly titled Yugapurushan. Here Sukumaran has taken the easiest route of stringing together important events in history.
To begin with, the premise is established with the Guru reminding the audience about his principles. Then his powers are shown, which include feeding a hungry child, helping fishermen to get a bumper catch, curing a leper and taming a tiger just by looking at it.
In a way, this prepares us for what is to follow. That is to say that this film is aimed to cater to the masses. So don't expect any analysis or character sketch. All you can do is watch the who's who of Malayalam cinema playing various historical characters.
Everyone seems to have been cast in a typical mould. Thalaivasal Vijay embodies Guru's physique and his performance is subdued compared to over-the-top acting of the others around him like Mammooty as K C Kuttan, Kalabhavan Mani as Koran and Navya Nair as Savtri.
In a biopic like this, we expect natural treatment and subtlety. But, R. Sukumaran the director does the exact opposite.
Rediff Rating: