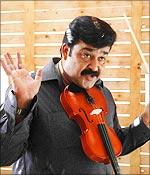 Without any doubt, we can say that the makers of the Malayalam film, Alexander The Great with Mohanlal in the lead have taken the audience as well as the actors for a ride.
That said, even though director Murali Nagavally has plagiarised the Oscar-winning Hollywood film Rain Man, he has done justice to the sensitive subject -- at least in parts.
Manu Varma (Bala), the scion of Varma Empire in the Middle East is in dire situation; he is neck deep in debt and chased by creditors. The only way out for him is to inherit his father Prathapa Varma's (Sai Kumar) wealth after he dies.
The father obliges but there's a snag -- his will leaves everything to his love child, Alexander (Mohanlal) born out of his affair with an Anglo Indian lady when he was in Mumbai.

Now Manu has to wait till Alexander dies to inherit the family fortune. Bala finds out more about his half-brother and what he unearths is not pretty. Alexander is a convicted murderer and an inmate of a mental asylum. Manu visits Alexander to transfer the property to his own name by making him sign the necessary documents.

But upon reaching the asylum, Manu realises that his half-brother is not mad. Rather he finds out that he is a genius whose brain is programmed differently. He can remember everything he reads and even has premonitions about accidents and disasters. He has peculiar habits and getting his signature proves to be very difficult. 

This may have been a tailor-made role for Mohanlal if handled realistically. He does his best to hold it afloat in spite of the shortcomings. In fact, it is he holds our interest by towering above the mediocre narration.

Alexander The Great would have been good if not great had it stuck to the relationship between the siblings. Instead the filmmaker has made a typical masala movie.
Rediff Rating: