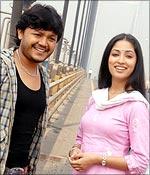 A close knit family, happy-go-lucky son and his brattish antics, gang of good for nothing friends, a pretty face in the neighbourhood -- Ganesh's much delayed Kannada film Ullasa Uthsaha remains loyal to its Telugu original Ulasanga Uthsahanga.
One look at Mahalakshmi (Yami Goutham) and it is love at first sight for fun-loving Preetam (looks like the film makers consider the name Preetham lucky for Ganesh as his character in super hit film Mungaru Male was named so).
Despite his advances being resisted through a 50 First Dates-style amnesia ploy, Preetam refuses to budge. He is hopeful even after he comes to know that Lakshmi loves her childhood friend for he feels that she has mistaken friendship and dependency for love. Could the lover boy be right?        
The Telugu film was a runaway hit and the team with the intension of creating the same effect here doesn't dare deviate from the original. In fact a few bits have simply been copy pasted.
Comedy takes centre stage through the film. Jokes seem fresh if you haven't seen the original. All the same the 'My uncle is MLA…' and 'Beda (Don't want) Saroja…' jokes are sure to tickle your funny bone.
The dialogues too seem to have been translated from the original. Also certain dialogues where 'amnesia' becomes 'aneminesia' are a little hard to digest! However the pace of the film is neat leaving no room for boredom.
Ullasa Uthsaha, like most of Ganesh's previous films, cashes in on his trademark boy-next-door image. But one feels much more attention could have been given to his costumes. Two fights have been included to please the front benchers.
Debutant Yami promises to evolve with her future projects. The film also boasts of comedians like Rangayana Raghu, Sharan, Sadhu khokhila, Sihi Kahi Chandru and Kari Basavaiah -- all who play their parts well.
Barring Chelisuva cheluve…, the other songs come with tunes used in the original. G V Prakash who composed the music for the original is the music director for this one too. Chelisuva… is the only number worth downloading to your iPod. Talking of its picturisation, the song deserved better visual treatment.
All in all, Ullasaha Uthsaha is a time pass, feel good romantic comedy. It is a onetime watch for Ganesh's diehard fans and for those of you who haven't seen the original.
Rediff Rating: