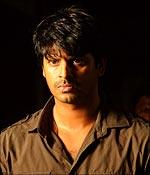 Pavithra Srinivasan reviews Drohi
It is rather difficult to categorise a movie like Indira Innovations' Drohi (Betrayer), directed by Sudha K Prasad into a convenient slot.

But first, kudos to Mani Ratnam's assistant for actually choosing a fairly difficult terrain for her debut movie: blood, lust, and betrayal among rival goons and their henchmen in the belly of Chennai, aka Royapuram et al, is no easy task.

She has managed to pull it off, courtesy a very capable technical team: Alphonse Roy (of Aamir fame) handling the camera and doing all manner of acrobatics; Sreekar Prasad who tightens the reigns appropriately and Rajeevan, whose art-work is nothing to sneeze at; he brings the distinct underworld feel to the movie. And yet -- there are the inevitable hiccups.
But first, the principal players: You have got a fair, tousle-haired Sami (Shrikkanth) lying trussed up like a fowl on railway tracks, shuddering every time a train rushes past.

There are 21 trains that will pass by during the night, and one of them will run right over him. He does not know which, though, leading to his dying a thousand deaths every time a train screeches.

A horrible way to die, especially at the hands of your best friend.
Cue to a flashback, and these are the heaviest sections of the film: in the seedier section of Chennai grow up two boys -- Sami and Karuna; one a rather timid Brahmin youngster, the other the obvious smart-aleck.

Karuna, slightly older, is the leader, dominating everything from conversations, to his first shot at kanja. The two go to school, where it doesn't seem like they study much, but much fun is had, rollicking with friends and defying every teacher. Until a young, pretty lady, Roja (Pooja, in a cameo) arrives to class.
In the best Mani Ratnam style, she quickly gains their hearts and through them, the area's as well: dancing in the rain, sharing ice-creams, prancing on the beach, solving their water-crisis, et al. Just as you wonder how much more of the syrupy sweetness you can take, she's cut down in cold blood -- and Sami and Karuna are the only witnesses.

In a fit of revenge-taking spree, Karuna commits his first crime; he slashes the throat of Roja's assassin, but fate has other plans; he's caught.

And here, he gets his first taste of betrayal: Sami blurts the truth about him to the police.

From here on, it's a mad cat-and-mouse game: neither the grown-up Sami, nor Karuna (Vishnu) can stand the sight of each other. Sami grows up to be the right-hand man of local bad-man Narayanan (Thyagarajan), while Karuna, in a weird twist of fate, is working hard for his IPS exams.

The two snipe at each other whenever they can, finding ways to outwit each at every opportunity. There are quite a few Agni Natchathiram-like confrontations, involving short, staccato dialogues, montages, close-ups – and romance follows suit.

Sami is wooed in earnest by a  remarkably bold girl Malar (Poorna) who wears cholis and skirts reminiscent of Heera's costumes in Thiruda Thiruda, practically pounces on him at every opportunity and actually does have her own way with him. Meanwhile, Karuna, who has been in love with Sruthi (Poonam Bajwa) "even before she was born," to quote himself, romances her in what looks like a throwback to Ayudha Ezhuthu.
Emotions escalate on both sides, bullets pop like popcorn, baddies fall by the wayside, men frown, or stand undecided, mouthing clipped dialogues until the past merges into the present, until, after a certain point, only one of them can live.
On paper, Drohi has the perfect script and cast: for Shrikkanth, this is clearly the chance of a lifetime and he's done his best to perform. He certainly has undergone a makeover, getting rid of his moustache and assuming a morose, fierce countenance that manages to work, most of the time. It's his dialogue delivery that doesn't match up to what he's trying to do, on-screen.

Vishnu, by contrast, has proven that he's capable of performing roles such as these with élan. He's bulked up and looks convincing as a cop -- but it's the mischievous sparkle in his eyes when he's putting one over his nemesis that shows his real potential. As Karuna, once-betrayed, still hurting, and then devastated, he's impressive.
Both Poorna and Poonam have miniscule roles (which is disappointing) but of the two, Poorna walks away with honours.

After a long time, Thyagarajan looks composed and collected on-screen. S P Charan manages to look funny. The rest of the cast, comprising largely of bad guys, look the part. Selvaganesh's background score is adequate; among the songs, Konjam Konjam Vendum stays with you.
Despite all these plusses, the film stumbles at certain points. The dialogues, undoubtedly meant to be a strength, do not sound convincing. The dialect is present, and so are plenty of cuss-words, appropriately bleeped out, but the impact is missing. Many scenes remind you of this or that confrontation in some Mani Ratnam movie; some twists do make you sit up, but the impact is lost.

There's little life in the proceedings; they don't draw you in, except in the last 10 minutes.
As a debut film, Drohi has its strengths. If it had managed to move from the shadow of Mani Ratnam, it would have been even better.
Rediff Rating: