The new animated venture, Sinbad: Legend Of The Seven Seas, has some good moments, but it is far removed from more inventive DreamWorks films like Shrek.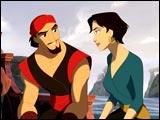 It also suffers considerably when compared to Finding Nemo, which is one of the most popular films over the last six months and continues to make big bucks.
Had it been magical enough, Sinbad too would have scored well.
Don't be surprised if Nemo, which has been around for more than a month and grossed about $255 million, beats Sinbad handsomely at the box office this weekend.
The new movie is an uneasy mix of hand-drawn animated creatures (the giant serpent and the roc, a 40 foot-tall bird made of ice and snow, are truly terrific) and computer-generated landscapes.
But very young kids could get bored with the film's themes of honour, trust, faithfulness and integrity, while the older ones may complain that it does not deal with them in a pulsating way. They may also feel that the romantic triangle in the film has not been handled well and is not very heartfelt.
In spite of talents like Gladiator screenwriter John Logan writing Sinbad's new adventure, the lack of sparkling dialogue and haunting music also limit the film's appeal considerably.
Among the scenes that work well are the battles between Sinbad and the giants, and the sighting of an island that eventually turns out to be a giant fish.
The film, which mixes Arab and Greek mythologies, follows one of the many adventures of the famous Arabian sailor Sinbad (in the voice of Brad Pitt) who, in the film, is a bit of a colourful rogue.
The goddess of chaos and discord, Eris (Michelle Pfeiffer), has stolen the Book Of Peace and has framed Sinbad for the crime. Sinbad's best friend, the noble Proteus (Joseph Fiennes), is convinced that Sinbad is innocent.
As Sinbad is about to be executed for the crime, Proteus offers to take his place. He prays that Sinbad will find the book before it is too late.
For some time, it looks like Sinbad has no interest in looking for the book and saving Proteus's life.
But the feisty Marina (Catherine Zeta-Jones), Proteus's girlfriend, stows away on Sinbad's ship and makes sure he fulfils his mission. She also loves the sea and an adventurous life.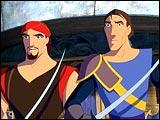 Though Sinbad declares that a ship is no place for a woman, he admires Marina's resourcefulness, courage and integrity. And, obviously, her charm.
Initially, her part as conscience-keeper irritates him. But he succumbs and will not dodge his responsibility.
Early on during their encounter, there are several spirited exchanges between the two as Marina refuses to accept his condescending attitude. These scenes may have considerable appeal to young females.
Predictably, there will be romance -- as the adventure continues, Sinbad draws closer to Marina.
The movie now has to deal with yet another conflict.
While it ends on a happy note, it does not soar for the most part or create an emotional impact like some of the best animated films -- The Lion King, for example -- have done. 
In its animated works, DreamWorks has scored a few huge hits, including Shrek; at the same time, it has also produced also-rans that included Spirit: Stallion Of The Cimarron.
Sinbad belongs to the second category.
Click here for more reviews
CREDITS

Cast:
Brad Pitt, Catherine Zeta-Jones, Michelle Pfeiffer, Dennis Haysbert, Joseph Fiennes
Directors:
Tim Johnson, Patrick Gilmore
Screenplay:
John Logan
Distributor:
DreamWorks