It is the two women directors in Shuruaat Ka Twist who end up making the best films, feels Sreehari Nair.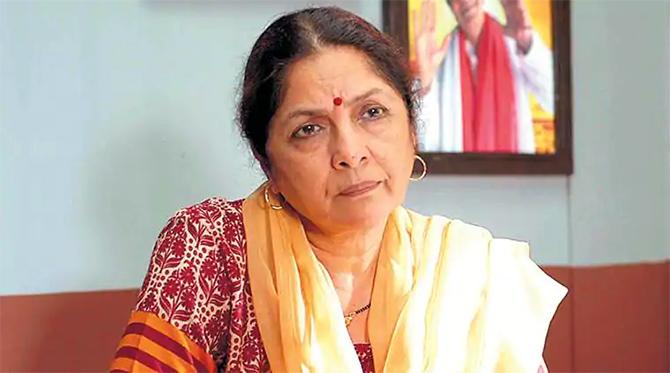 Shuruaat Ka Twist, a six-part anthology by six upcoming directors, features two masterpieces and one intensely enjoyable horror film.
But first, a quick round-up of the duds.
Gaurav Mehra's Guddu is an unmemorable attempt: a plot twist blown up into a 20-minute film.
In this slapdash piece about a runaway bride, everything from the acting to the length of the scenes seems to have been shaped to suit the twist in the end. (The film is a natural evolution from 2007's Dus Kahaniyaan -- though, with a non-established director at the helm, you feel the sting less acutely).
Bhaskar Calling, directed by Sanjiv Kishinchandani, centres around a desperate home loan executive's rendezvous with an old Parsi man who is given to excessive punning (frankly, there is nothing more to this windbag's personality).
Presented by Rajkumar Hirani, this one's as broad and as nervously directed as a Hirani venture, filled with simplistic, advertising-level observations and hollow rimshots that grate on you.
Of the more interesting films, there are two Comedies of Paranoia in here.
Praveen Fernandes's Tap Tap works like a well-shot Actor Demo Reel for Chunky Pandey.
Pandey plays Kamal Kumar, a talented, yesteryear musician whose contempt for the general mediocrity of things around him turns him into a self-parodying no-good.
One of the few pleasures of this section is in drawing direct connections between Chunky Pandey and the character he is playing.
The actor was, in some sense, bigger than the pre-marinated roles he was handed back in the 1990s (you could make the same case for Sanjay Kapoor as well) and here, you get to see how an artist with untapped reserves can mutate into a tragic figure.
Aside from Pandey's carefully modulated performance and his smartly chosen attires (when not in netted vests, he wears shirts with heart signs on them), nothing really builds in this story.
The accumulating sense of dread is better evoked in Hanish Kalia's Khauff -- a scary/funny take on the horror film genre.
In this tight, tense film about an insomniac (Amit Sial) and his uninterested doctor (Pramod Pathak), 'horror' is almost a by-product of the modern world and its many sedating machinations.
The indifferent concrete structures in Khauff, all buzzing with electronic sounds and with their distinct lack of aestheticism, are imagined as madhouses, and Hanish Kalia is a consummate awakener of the panic that resides in ordinary experiences. (The triangle of light that peeks in through a half-open door, the grains on a television screen, the hiss of a welding iron -- these are what give you the creeps here).
New intonations emerge out of Kalia's editing patterns, and when he suddenly cuts to the dark circles on his actors' faces, it is both chilling and amusing.
'Is having a heightened sense of awareness a sure-shot way of experiencing horror in the modern world?' Khauff asks.
It's on one level, a trance out and, on another level, knowingly ticklish.
Like Khauff, the three best films in Shuruaat Ka Twist are all works of new feeling (In a year like this, where except for Vasan Bala's Mard Ko Dard Nahi Hota, we haven't had a Hindi film with any fresh feeling in it, a small yet significant achievement may just have silently slipped into our theatres).
Heena D'Souza's Adi Sonal is near flawless.
It is an excerpt from the life of a family. So brilliant are D'Souza's characterisations (there are wonderful women here, headed by Neena Gupta, and there's the great Lalit Behl with a tummy that's close to exploding), and so strong is her grip on film craft, that in 20 odd minutes, you get a sense of the family's entire history.
D'Souza's camera placements keep adding more dimensions to the story than what the plot outline will tell you -- about how the family has been conditioned to accept domestic injustices, and also about its many built-in cadences.
Gupta and Behl talk in a manner that feels constructed over the years (they don't even complete their sentences -- just allow them to fade into a grunt).
There are clearly no useless details as far as Heena D'Souza is concerned. When she photographs Neena Gupta's fasting face, she makes sure you notice how it is being slowly drained of all colour.
Adi Sonal is one of those rare short films where each moment matters as much as the finale.
There's much music and joy to be discovered in simple acts, such as the hasty turning off of the kitchen stove, and in how characters enter and exit rooms, often crossing paths, unaware of each other's tears.
Despite a few defects of rhythm, Avalokita Dutt's Gutthi is every bit an achievement as Heena D'Souza's film.
Dutt's is a story of betrayal; her grace, though, is in never making this apparent.
Dutt's girls (played by Veera Saxena and Merenla Imsong) are artists/proto-revolutionaries, who promise to be together always, and the film is snapshots from the five years that this silent promise stays put.
The story, undoubtedly, has personal meaning for the young director; and she uses 'space' better than any other Indian director in recent times.
The general backgrounds and, specifically, the sketches on the walls tell us a lot about the girls' contrasting personalities.
The geometries of the shots reveal the dynamic between the two, and at one point, Dutt even stages a scene so that the division in the girls' rooms give us the impression of a split-screen -- with parallel actions happening inside each screen.
Dutt's casting choices are interesting. She avoids anyone who is conventionally good-looking (so that the story always remains an 'Every Person's Story') but the wit in her lines (even passing lines) give the characters the real force of personality.
In one scene, Merenla Imsong roams her neighborhood, looking for her cat. When asked about why she's wearing hand gloves, replies, "I need them for thinking."
Gutthi, at times, felt to me, like a Bertolucci movie. And almost in the manner of the Italian master, it breaks your heart by reminding you of life's impermanent beauty.
On balance, Shuruaat Ka Twist is quite an anthology.
It is the two women directors here who end up making the best films.
D'Souza and Dutt don't just possess better control over film technique; they also show a greater commitment toward 'sensations' as opposed to just 'ideas' and 'plot.'
The male directors waste their breath making statements; the women have all the fun.
Rediff Rating: