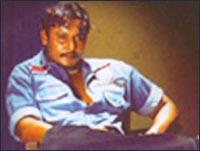 There is no denying the fact that action hero Darshan -- with his specialised fighting style and mannerisms -- has created a niche of his own in the Kannada film industry. Producers and directors have cashed in on Darshan's saleability, as it guarantees their films repeat value.
Shashtri, directed by P N Sathya -- he has had two earlier hits with the star -- has plenty of action sequences and trademark Darshan mannerisms. Sadly, their third outing lacks a good storyline. What emerges is a poor imitation of the trendsetting Kannada film, Om, starring Shivaraj Kumar and directed by Upendra. It is also a much-borrowed hotchpotch of many successful plots like the Telugu hit Raghavendra and the Tamil success Ramana. So much for Sathya's originality!
Darshan is a big star who has come up on his own merit. He slotted himself as an action hero, which was a good strategic move. There have been few good action films recently and Darshan's fan following has increased with his last few releases. But the actor may have to concentrate on versatility instead of milking the same formula. Shashtri proves this formula is getting exhausted.
Darshan plays a student, Shashtri, who cannot be subdued by threats or ragging by his seniors. He becomes the college leader after he thrashes some goons.
Maanya, who plays the spoilt rich brat, likes him. When Darshan spurns her, she makes a public proclamation of her love in the college and threatens other girls against falling for him.
Darshan humiliates her further and reveals he is engaged to one of his relatives. The stubborn girl refuses to take this lying down and, after he persistently humiliates her, decides Darshan should die if he was not going to marry her.
The truth is that Darshan loves Maanya but does not want to admit it.
The film then goes through tiring plot twists till the lovers are predictably united. 
Shashtri is a badly-made, poorly directed film.