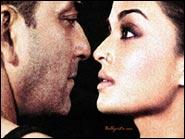 When a film is called Shabd, one expects verbosity. So when Sanjay Dutt whispers poetic verses before some songs, the anticipation is justified.
Directed by debutante Leena Yadav, Shabd revolves around a complex web that a writer weaves around his muse and an unknown somebody. Interesting, right? Ditto can be said about the casting combination – Dutt, Aishwarya Rai and Zayed Khan.
The music, however, is just about satisfactory.
Though the album composed by Vishal-Shekhar has its moments, it is not entirely enticing. The young duo is getting a tad repetitive.
The soundtrack opens with Sholon si. It may seemingly have all the ingredients to become a spunky mix with a generous dose of salsa music, but it lacks that extra something that makes you reach for the rewind button. The remix version is bland as well.
How to woo a girl in 10 days? Start by singing Khoya khoya, a sunny love-me-do ditty, a la Zayed Khan. The song looks appealing in the promos but it does not have much repeat value.
High on drama and impressively performed (by Sukhwinder Singh), Mat ja is rocking stuff. The pain of a scorned lover comes out wonderfully in this track. But the remix is a let-down.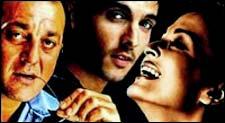 Chahaton ka silsila
has a flute backdrop. The mellow love song has two versions. Written by the expressive Irshad Kamil, the solo take features Udit Narayan while the other is a duet by Kumar Sanu and Sunidhi Chauhan.
Bolo to 
is soporific. It is a task to go through Shreya Ghosal's shrill and Sonu Nigam's stylised renditions, which are a complete mismatch. The result is: zzzzz.
Tense and emotional, the Shabd theme echoes the persona of the story. Even if lyrically articulate, Shabd lacks the musical eloquence required to keep the listener hooked.