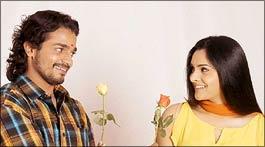 Sevanthi Sevanthi is regular fare from the Kannada film industry's most dependable writer-director S Narayan. It comes with his own brand of narration, backed by some excellent technical support.
The major plus point of the film is its beautifully shot and well-choreographed songs that have been carefully selected from a pool of popular folk songs. The songs match the story perfectly and, as they are traditional tracks, the lyrics are already popular. Music director S A Raj Kumar has some pleasing tunes to offer, and the result is a huge round of applause whenever the songs play. 
As for the plot, it may seem regressive and aimed at propagating age-old conventions that have negative overtones to them. But these things do not strike you hard while watching the film. This is because Narayan has packaged his film with high voltage sentiment, well-choreographed songs, enjoyable comedy and a bit of action.
Like many other south Indian films, this film also uses the "Thali" sentiment to the hilt, and that is the only sentiment that works in the entire second half. It is quite obvious that the producer and director wanted to exploit the gullibility of the lower middle class household by overemphasizing the Thali factor .
Sevanthi Sevanthi tells the story of  Devu and Sevanthi who become close to each other through folk songs. Devu is a good folk singer and Sevanthi loves folk songs. Devu mistakes Sevanthi's overbearing interest in him as love. When the news of Sevanthi's engagement reaches him, Devu ties a Thali around her neck while she is sleeping. It happens a day before her marriage. The marriage is cancelled, and this affects Sevanthi's reputation. She vows to finish off the person who destroyed her life, but doesn't know it is Devu. After a heavy dose of melodrama, Sevanthi finally accepts Devu as her husband.  
Vijaya Raghavendra and Ramya have come out with high calibre performances. Veteran artists like Mukyamanthri Chandru, Doddanna, Tulasi Shivamani have lent good support too. Komal and Jayaram's comedy sequences could have been avoided, as they fail to evoke any laughter.
But Narayan proves that he is the best technician the Kannada film industry has now. The technical crew -- including cameraman P K H Doss, music director  S A Raj Kumar, editor P R Soundar Rajan and art director Ramesh Babu -- have put in some excellent work.
An enjoyable film, but it could have been better if it had some progressive content. Nevertheless, in these days of remakes, the audience should be happy with something original.
Rediff Rating: