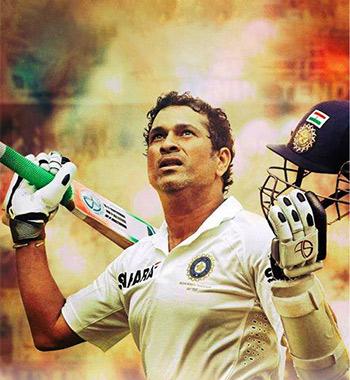 '2 hours and 20 minutes later, I walked out of Sachin: A Billion Dreams learning not one additional thing about Tendulkar: Not one factoid, not one statistic.'
'Maybe it's convenient filmmaking, or maybe just the essence of God,' says Sreehari Nair.
A Tendulkar with a Tennis Elbow had once sent an entire country scrambling for the medical dictionary.
He was the national phenomenon who never fell to the picketing of the young or the protesting of his detractors.
It wasn't just the strokes that captured our imagination, but also the little trinkets that came with the man.
We rolled up our bracelets at funerals, just like he did when deliberating on the field; and we made that abdominal guard-adjusting motion when playing underarm cricket with tennis balls.
His rituals may have seemed misplaced outside of his own physical frame, but we went ahead and re-enacted these rituals in our lives anyway.
For our worst attempts at mimicking him were still our only opportunities to touch him.
He was the champ who turned things around; not always by bazooka-ing his way out of dry spells, but often -- in the tradition of those wily old men -- by curtailing his own powers.
We saw his grand comebacks as outgrowths of his huge talent, and despite our tendency to postulate, we knew that no absolute theory could explain how he did what he did.
Sachin Tendulkar, the cricketer, was national property, but the formula for his enduring greatness -- some complex mathematical equation running on a recursive loop -- was always neatly wedged between his ears.
Sachin: A Billion Dreams the docudrama, could then have been a shot at unpacking what was bundled between those two private ears of India's most loved sportsman. But what we get instead is an Audio-Visual show of the very obvious.
If the Boria Majumder-ghosted Tendulkar autobiography Playing It My Way read like an extended 'Myself'-essay of the high-school variety, this is the corporate film version of that book: Weighed down by a legend, clearly too big to be made sense of, beyond the usual platitudes.
I walked in, eager to know about the history between two Tendulkar breaths; about his story beyond the press headlines.
"At what point in Andrew Caddick's delivery stride was that hoist over midwicket planned?"
"What did he mean when he remarked that having a runner destroyed his entire approach to batting?"
"Was his reluctance to come receive the Man-of-the-Match award after the 1999 Chennai loss to Pakistan, his way of protesting against a team that crumbled every time his tank ran dry?"
These and five dozen other questions like these are ones only Tendulkar could have answered.
But then, Sachin: A Billion Dreams' preoccupation is not with asking any new questions, but reinforcing just those facts that we already know about the man.
Director James Erskine seems to have smacked his lips as he unfurled the movie's credo: Let us seduce the already seduced. This is a movie that clearly has its dreams set on making the Big Billions.
Beginning with an accelerated history of post-Independence India craving for a hero, the picture goes onto detail young Sachin's humble roots, his precocity, and his privations.
Interestingly enough, in this section, it is Sachin's real relatives giving their personal accounts of his growing-up years, who come across as the true charmers; with a twinkle in their unrehearsed speeches they thump the dead PR-quality Voiceovers of Sachin, Ravi Shastri, and Harsha Bhogle.
Bhogle must be the finest chronicler of simple Indian joys, but here, except for a quote about Gavaskar belonging to a generation of Fixed Deposit-keepers and Tendulkar of Equity Investors, Bhogle's poetry of flaky pleasures never quite hits the right pitch.
Visually, the picture tries to mash up real scenes from Tendulkar's life and home videos, and intercut those with clips from his old matches and interviews.
The old interviews are a hoot and a careful dissection of them will tell you, how, in this country, our heroes slowly imbibe the virtue of Political Correctness.
For instance, there's an interview clip from 1989 that has Tendulkar talking about his confrontation with Abdul Qadir.
"I won't let you hit me," the leg-spinner had then said, taunting the laddish Tendulkar. "Now, I am all the more charged to hit you," Tendulkar had replied, before he sent four of Qadir's deliveries sailing over the fence.
There was a daredevilry in the 16 year old's recounting of that incident that has since been ironed out, as the mantle of a role-model was thrust upon him.
And now in this movie, he emits his Voiceover in an affected tone, lapsing into six different interpretations of what an India-Pakistan match stands for.
Buttressing this PR-crafted speech is the Background Score suggesting only two possibilities: that you are either witnessing a wedding or a wake.
Names of international players are cited in passing, till the movie gets to the 1998 India-Australia series and Shane Warne gets a marquee mention there.
"And why just Warne?" you may ask. Because everybody knows about the Sachin-Warne rivalry, right? It is box-office gold; the Big Billion Dreams, remember?
The picture turns itself into such an obedient servant of the game's most obedient son that it often forgets to keep exact track of the matches in which Tendulkar's hundreds had resulted in a win for Team India, and ones that had not.
A triumphant drum-roll plays in the background, when recapping innings such as the 177 against Australia at Bangalore, and the 136 against Chennai at Pakistan (both games that India had gone on to lose).
By this point, in the reality of the movie, it's Sachin's resume that has taken precedence over cricket itself. And to think of it, this is a picture dedicated to a man, who once turned down Prahlad Kakkar saying: "Sir, I can't do this TV commercial because it projects me as bigger than the game."
Mohammad Azharuddin and Greg Chappell receive the movie's only unfulsome mention, with the former photographed as sitting alongside Tendulkar and looking at him deviously, almost crooking an eyebrow, and Chappell walking through the corridors like an evil phantom of the cricketing opera.
The 'written dialogues' seem to have been conceived with an intention of numbing you by a process of repetition.
Dreams and Success, the easy slogans of pre-privatisation India, are transformed into Liberal clichés of 2017 and then phrased in syrupy speeches that can swell some chests and make some throw up.
Tendulkar himself is stuffed with lines that seem thought up in English, punctuated in Marathi, and then uttered in Hindi.
The home videos are probably the best bits in the picture, and the impromptu spirit of many of those videos expose the pretentiousness in the crafted parts.
It's when you see the man, free from the burden of being this sacred incarnate, when you see him as a father, as a friend, and as a team-mate, that the movie's overpowering subservience truly hits you.
My favourite home video bit is one in which the Indian team is shown celebrating the record-breaking 35th Test century, and team-mates dole out mock-praises when asked about Sachin.
Here's Ganguly:"I don't think he can bat."
Here's Kumble: "They'll probably cut a cake like this for me, but it will be for my 35th birthday."
Here's Dhoni: "Boost is the secret of his energy."
Here's Harbhajan: "He's great, but I think I am better."
Sachin: A Billion Dreams would undoubtedly work for a big section of the audience, thanks to its easy scandalising of nostalgia. I, however, found it to be an exasperating watch, because it never dares to expand beyond the bounds of that easy nostalgia or try to honestly investigate one of cricket's most brilliant minds.
The movie takes the energy of our hallowed Sachin chants, and plays them back to us. We are expected to drown in the euphoria of our own voices.
At this point, A R Rahman recycles one of his biggest hits Vande Mataram and places it against an image of Tendulkar.
In what seems like the only subtext that can be drawn, the man and the motherland are suddenly one.
2 hours and 20 minutes later, I walked out of Sachin: A Billion Dreams learning not one additional thing about Tendulkar: Not one factoid, not one statistic.
Maybe it's convenient filmmaking, or maybe just the essence of God.
Rediff Rating: