Sab Kushal Mangal is a cute film, but it is the climax that is absolutely disappointing, says Prasanna D Zore.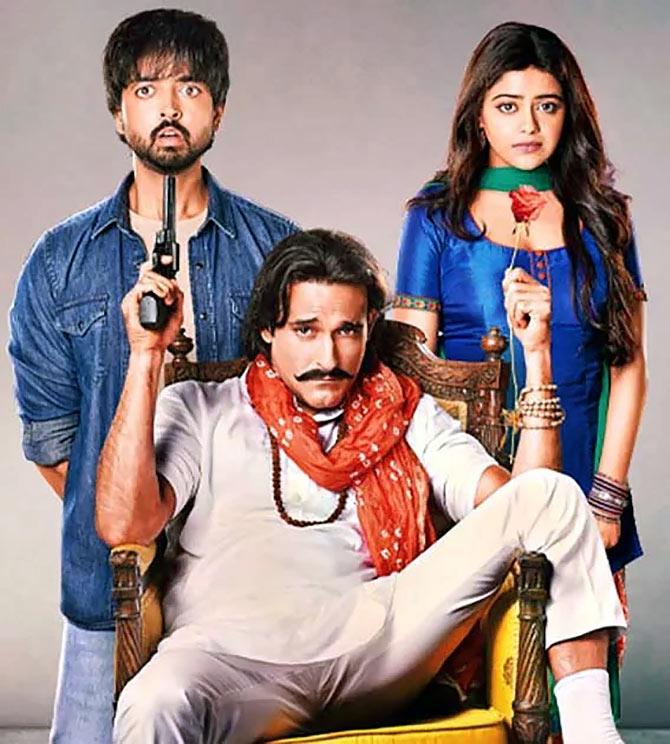 First-time director Karan Vishwanath Kashyap has done a good job of making a cute rom-com that falters only during the last 15 minutes in its 134 minutes length.
Sab Kushal Mangal never has a dull moment.
From Akshaye Khanna as the comic-villain Babasahab Bhandari, or Priyaank Sharma as Pappu Mishra (his hairstyle perhaps goes with the character), the 'celebrity' host of a reality show Musibat Odh Li Maine, in the mould of Deepak Chaurasia, or Riva Kishan as the bubbly Mandira aka Manda, Bhandari's and Mishra's love interest in the film, all look and act believable.
You can easily connect with them as someone you may have met or heard about from a friend.
Set in the sleepy town of Coloenlganj in Jharkhand, the film's plot revolves around forced marriages.
Bahubali, aka, Babasahab, a budding politician, tries to win his electorate by kidnapping eligible bachelors and forcing them to marry brides from Karnalganj.
Karnalganj is one hell of a town with its own peculiar grooms' market, replete with pandits and brokers, where marriage proposals are accepted and rejected based on how much dahej a bride's father shells out.
Pappu Mishra, also from Karnalganj, whose Mudibat Odh Li Maine exposes Babasahab's histrionics from a TV studio in Delhi, ironically falls prey to Babasahab's 'goondagardi' and that's how his journey with Mandira begins.
It's not just the love triangle that keeps you engaged.
There are many hilarious moments and nifty dialogues by Brijendra Kala and, of course, the supporting cast that includes stalwarts like Supriya Pathak Kapoor, Satsih Kaushik and Rakesh Bedi.
The autorickshaw scene, in which Supriya Pathak and Kaushik, dressed as a Muslim couple, try to get their son Pappu away from the clutches of Babasahab may remind you of those crazy scenes from Andaz Apna Apna.
But the film belongs to the brilliant Akshaye Khanna as the comic-villain Babasahab Bhandari.
He single-handedly irons out all the film's creases and makes it the rom-com it's supposed to be. His equally fantastic sidekicks bring comic relief as well as infuse the film with its gangster quotient.
It is only the film's climax that leaves much to be desired.
Kashyap's adept handling of the film in the first half and most of the second does not justify the manner in which the film ends.
Rediff Rating:

---
Prasanna D Zore covers politics and everything that goes with it, and does the odd movie review once in a while. He can be contacted at prasannaz@rediff-inc.com
---