Like many, I watched Om Shanti Om last weekend. I have to say that Shah Rukh Khan and Farah Khan did an incredible job with the publicity of the movie. I could see it in the long queue at the ticketing counter as well as outside the theatre.
This might not be something new for Indian theatres, but believe me, for Naz8 @ Los Angeles, it's astounding. Also they were practically everywhere -- TV, Internet, newspapers or radio. And they wouldn't have found a better time to release the movie than Diwali. So good job guys.
Coming to the movie, however, I wouldn't tell the story as it is already out in many websites. In fact, it's an easy one to guess from the theme, but Farah surprises in the second half, and that too not in a good way. There are a bunch of spoilers ahead, so read at your own cost.

The things I loved about the movie: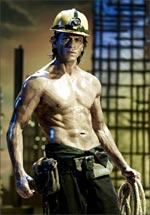 * Well undoubtedly, King Khan himself. This was the kind of character I was waiting to see for a long time from him. The funnier side of Shah Rukh, which we saw in Duplicate, Badshaah and Main Hoon Naa. He was phenomenal in the first half. And believe me, its not easy to get a six-pack, guys.
* Then there is the picturisation of the second song Dhoom Tana wherein we got to see Rajesh Khanna, Jeetendra romancing with Deepika (thanks to special effects), and the magical fairy talelish third song Main Agar Kahoon.

* Deepika Padukone. She was hot, beautiful, elegant and taller than SRK. She brought freshness to the screen.
* Farah's brilliance in several parts of first half of the movie. The way the movie beings, with Rishi Kapoor's OSO song, the Aag scene where SRK shouts 'Bhaago', the incredibly hilarious episode with Manoj Kumar, South Indian Om Swaminathan to name a few.

* The awesome sets and costumes, which take you through the nostalgic 70s.

* The intelligent Filmfare award best movies, which included Main Bhi Hoona Na, Phir Bhi Dil hai NRI, Dhoom 5 and Return to Khiladi.

* The handicapped role of SRK in a shooting tickled almost everyone's funny bone.

* The creative end credits.
* Finally, the entire spoof of 1970s film industry, like the shooting, dances, acting, almost everything related to that era was amazingly executed.

And now for the part which many are going to hate. And believe me, there were many who felt the same as I did after the movie ended.

* Lack of chemistry between SRK and Deepika. There was absolutely no love angle between their characters. The half saw SRK in love, while the second half was a disaster in this department.

*The abrupt realisation of Om about his past. I mean c'mon, all of a sudden you see fire and you remember the dialogues of your past, that too when you were drunk saying those lines?

*The big time flawed charaterisation of Sandy aka Deepika's punar janam. Her indifferent behavior even after realising she has the face of the famous star Shanti Priya. Don't we expect excitement knowing that we have the face of an all time star? Instead we see her chewing on Chiclets all the time.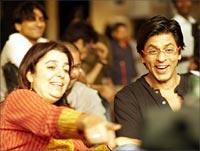 * The songs, which I have to admit were not gripping. Jag soona didn't have any impact at all. The last song Dastaan was boring. Except for Dard-e-disco, Deewangee to a certain extent, and Main Agar Kahoon, the rest fell flat. There was no song which I could hum going back home.
* Farah's sloppy screenplay in the second half. There is a time when she puts in comical twist when you expect seriousness and the next moment you think the scene is going to be funny and it turns out to be really serious. So in the end there were many parts in the second half where audience neither laughed at the funny scenes nor cried at the sad ones.
* Badly etched Kirron Kher's character. There was some maturity shown in Shreyas Talpade's character, but I didn't find any in Kher's.
* The Ajab Si song was shortened, and played in the background.
* In Farah's movies we don't expect villains to be really scary. And the same applies to OSO. In fact, Arjun Rampal was good in the movie but not as a villain. Even he didn't have any scope in the second half.
* Although my favorite song before watching the movie was Deewangee, I thought it was a bit way too stretched in the movie. It was almost like a 25-minute song which went on and on.
* And finally, the complete second half itself was a big letdown after a great build up of the first half. There were many scenes, which could have been really powerful and hard-hitting, but rather turn out to be damp squibs. There is nobody else to blame other than Farah for whom overconfidence took over creativity.

It looked like Farah spent a lot of time paying tribute to the long gone 70s era, which is commendable. But she should have concentrated a bit more on the plot. If she really wanted to make a spoof of Karz or for that matter a bunch of 70s and 80s movies, she should have done it completely, which would have made it a wholesome entertainer like Austin Powers movies which from start to finish are spoofs of Bond movies.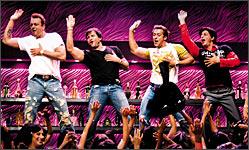 Having said that, there is no doubt that this movie is going to make loads of money, which is good for many people in this industry. But the sad part is that this movie, which had everything to make millions of people happy and smiling, left many unsatisfied.
I expected Farah to prove to many that her first movie wasn't a fluke, and that she's capable in giving a total paisa vasool masala entertainer. She tried it with OSO, but I feel she's taken everyone for a ride. In these times when new directors are coming up with novel scripts, innovative ideas giving fresh direction to Bollywood, changing the viewers' perception of Indian movies, Farah has dished out a tried and tested formula film which apparently has put the audience mindset back to where they were couple of years ago.

If you are a SRK fan, you'll love the movie. If you are an Aamir Khan fan, you'll love to thrash the movie big time. If you love Bollywood movies as they were before, you'll enjoy OSO and won't mind the minus points. And if you belong to the group who believe and support the changing phase of Bollywood, you'll be disappointed.