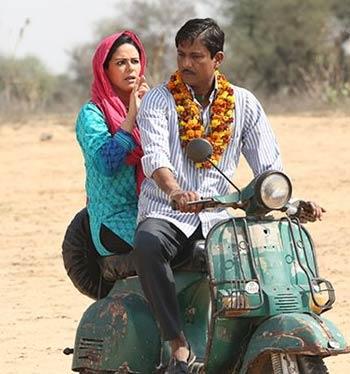 Zed Plus allows a bunch of talented actors to rise above second rung roles and take centre stage, says Sukanya Verma.

Right in the beginning of Zed Plus, director Dr Chandraprakash Dwivedi reads out a cheeky disclaimer that claims what we're about to witness is a work of fiction because it's impossible such incidents would occur within a democracy.
His political parody pokes fun of the government's absurd distribution of security privileges while facetiously criticising its self-serving ethos wherein, as always, it's the indigent aam aadmi at disadvantage.
In Zed Plus, Adil Hussain plays a tyre mechanic Aslam Puncturewala in Fatehpur, Rajasthan enjoying a peaceful existence two-timing his footwear-selling wife (Mona Singh) with a bangle-selling mistress (a blank Shivani Tanksale) and slyly quibbling over the latter (they refer to her as Kashmir) with his neighbour cum friend-turned-foe (a semi-fun Mukesh Tiwari).

Trouble begins when his turn to help out at the town's renowned Peepalwale Peer Ki Dargah happens to coincide with the Prime Minister's (Kulbhushan Kharbanda) visit to the shrine.
Distraught by coalition woes, the strictly English-speaking PM is making this trip at his advisor's (K K Raina) behest.

Inside the dargah, one disastrously interpreted interaction with the strictly Hindi speaking Aslam results in the PM assuming he's receiving threats from the neighbouring country whereas he meant next-door neighbour and grants the unsuspecting fella Z-level security.
Zed Plus dodders till this point but once the chaos is triggered, it picks up pace and humorously documents the changes that follow.

With over a dozen guards encasing his rickety home, the carefree cheat now cannot even answer nature's call in peace. His wife copes better with this change of scene and befriends the men in uniform.
Considering how every brand of idiocy attempts to acquire legitimacy in our country, the conjecturing in Zed Plus doesn't seem far-fetched.
Only Dwivedi inflates the scope of Aslam's circumstances by tossing him into the heart of politics, surveying his leanings that allow his character to go through a predictable and choppy rigmarole of ambition, greed and, eventually, atonement.
What's particularly disconcerting is how lightly Aslam's infidelity is treated.
There's also a wishy-washy sub-plot of a goofy Pakistani terrorist outfit (headed by the ever-reliable Sanjay Mishra) intending to claim its share of laughs in the ensuing circus.
Dwivedi's scholarly, informed approach lends his scripts (Chanakya, Pinjar) a meatiness that often succeeds in concealing his difficulty with technique and accommodating formulaic compulsions.

Here too, he opens Zed Plus with an obligatory song that showcases Rajasthan's touristy attributes around Hrishita Bhatt's folksy dance.
Though straight in its depiction of the socio-politico-economic environment and pungent in its accusations -- be it the exploitation of minorities or a jibe on netas who're virtually unrecognisable without a horde of escorting security, Zed Plus feels rather long at 140 minutes.

Its lack of succinct storytelling hurts the overall impact it strives to make.
What is undeniably heartening is that Zed Plus allows a bunch of talented actors to rise above second rung roles and take centre stage.

Adil Hussain impresses as an insignificant small town bloke turned political pawn with ridiculous protection at his command.

It's refreshing to observe a light-hearted facet of his personality.
Mona Singh, as his wife, shines as the woman who's tough and gentle in perfect measure.
But the real surprise is Kulbhushan Kharbanda.

Not only does the veteran resemble a whole bunch of real-life political personalities but also proves Shakaal hasn't forgotten to have fun with whimsical roles.
Unlike him, Zed Plus may not be perfect but it doesn't insult your intelligence like most Friday fare.

Rediff Rating: