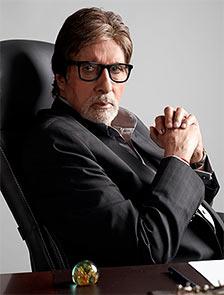 Yudh is worse than a show with flaws, rants Raja Sen.
Finally, we begin to spy moments of craft and clarity in Yudh, but with three weeks gone and two to go, are there any people out there still giving this show a chance?
Episode 9 of Yudh begins on a vulnerable note, with a strong emotional scene between Yudh and his daughter, Taruni.
It is getting increasingly clear that -- with the exception of Amitabh Bachchan as Yudh and Zakir Hussain as Anand -- it is this actress, Aahana Kumra, playing Taruni, who is the one performer consistently nailing it. She gets the moments right and conjures up the right emotion, and, no matter how predictably her character speaks, she manages to make the scenes work.
A couple of minutes after this father-daughter showdown Anand, Yudh's right hand man, appeals to Taruni demanding two days of her time.
Zakir is an excellent actor and both his frustration and his plaintive urgency are clear in his plea, but this feels too much like the showrunners trying to console the viewer who has lost patience; can the show win us back?
Episode 9 is as good as Yudh has ever been, but even this applause must be tempered by disclaimers.
First of all, the episode is marred by a long and unnecessary sequence -- a relentless 10-minute chunk that feels unending -- involving the Naxal situation.
This is an ambitiously political track that may have been potent in the right hands, but here, handled this flimsily, it merely gets in the way of the action.
The poisoning-of-Yudh conspiracy is an intriguing one, but the show has been most haphazard in terms of marshalling its narrative: just when things begin to gather steam, either the Naxals or (far worse) a clown returns to the picture.
Bachchan -- as if despite the script -- makes some stray moment work in each episode, but the sheer directionless nature of the storytelling makes it a tedious watch.
This isn't helped by the show's weaker actors (like the patently awful Mona Wasu, who telegraphs her every emotion a few times before actually emoting) getting major tracks all their own.
Perhaps spurred on by the lack of talent, casting director Mukesh Chhabra has thrown himself into the mix as a villain (who shares his real-life name).
While Chhabra is suitably, even enjoyably, sleazy in the part, all the chases and thrills accompanying his B-movie shenanigans are served up with a complete lack of polish.
That Bachchan is trying to walk -- as Samuel L Jackson would have said -- 'the path of the righteous man,' is clearer even than Yudh's similar, stuttering mission.
Amitabh wants to change television, give us something worth watching, but right now the show he's in seems clueless about moving ahead.
There are more pros this week than previously but Yudh is worse than a show with flaws. To quote the hero growling sardonically to his mentor, ""Galati toh tab hoti hai jab pehle se hi sabkuchh sahi ho; yahan toh sabkuchh galat hai."
Rediff Rating: