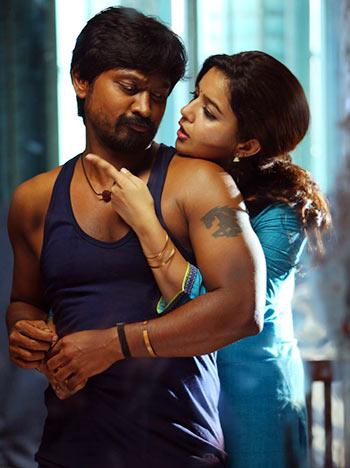 Yatchan is an unexciting action comedy, writes S Saraswathi.
Director Vishnuvardhan's Yatchan (Puppeteer) is based on a novel by Suba.
The film features an ensemble cast of his younger brother Kreshna, Arya, Deepa Sannidhi, Swati Reddy, Adil Hussain, Thambi Ramaiah and several others.
Another important character in the film is Ajith, who makes an impression without even appearing in the film.
Filmmakers seem to be obsessed with him.
Vaalu, which released last month, had Simbu portraying a die-hard Ajith fan, while Yatchan has Arya fawning over the actor. He plays Chinnah, a small-time rowdy in Tuticorin.
Matters get serious when he unintentionally kills a guy, who rips his movie tickets to an Ajith film. He gets forced to escape to Chennai.
Simultaneously, the director also narrates the tale of Karthik (Kreshna), an aspiring actor from Palani. Karthik wants to move to Chennai to try his hand at acting but his family is against it. Encouraged by his girlfriend Deepa (Swati Reddy), Kreshna eventually manages to escape.
Both Chinnah and Karthik find lodging in the same neighborhood. Though they are not aware of each other, their paths cross often.
Karthik gets an opportunity to star in a film directed by S J Surya, who makes a cameo. No prizes for guessing that it stars Ajith.
Meanwhile, Chinnah is hired by Motamani (Thambi Ramaiah) to kill Swetha (Deepa Sannidhi). He follows her around for an opportunity to kill her but falls in love instead.
Her back story explains her predicament with the antagonist Vetri (Adil Hussain) and why he wants her dead.
At a crucial moment in their life, Chinnah and Karthik are thrown into each other's lives and the resulting chaos forms the rest of the film.
The narration takes its own sweet time to get to the crux of the matter and despite the build up in the first half, the second is a disappointment. Everyone is given equal attention, but there are far too many unnecessary and weird characters, whose desperate attempts to evoke laughter falls flat.
Swati of Subramaniapuram fame and Deepa Sannidhi, who was seen in Enakkul Oruvan are far more convincing than Arya, who looks bored, and Kreshna, who seems too anxious.
Thambi Ramaiah plays his part perfectly and so does Adil Hussain. But there are some glaring lip-syncing issues that take away the menace of his character.
Vishnuvardhan attempts to bring humour into the narrative by creating a total chaos, unfortunately it just does not work. The unexciting screenplay, coupled with the lackluster performances, make Yatchan an ordinary fare.
Rediff Rating: