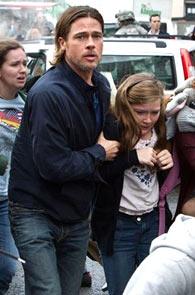 World War Z is only for Brad Pitt fans, writes Norma Godinho.

After years of fighting aliens, Hollywood's latest obsession is taking on zombies.

Movie-goers have taken well to films based on these 'creatures' and so we have World War Z giving us another massive dose of the undead.

Gerry (Brad Pitt) is a former United Nations worker who has worked in the Middle East and Chechnya but after years of service, has traded the hard life for a family.

Life is normal for Gerry and family until one evening when tragedy strikes.

Stuck in a heavy traffic jam on a street in Philadelphia, Gerry senses something fishy. Just then, out of nowhere, the whole city is infested by zombies, creating a huge pile-up of cars. The air force is called in to kill them, but that barely helps. So Gerry and family take refuge in an apartment building.

Gerry soon learns that the menace has become a worldwide pandemic -- Zombie flu. As 'the man who can do it,' Gerry is requested to rejoin the United Nations to help control the situation.

Family man that he is, Gerry refuses the offer at first, but later, accepts it.

In return, Gerry gets to keep his family in the safety of a UN battleship while he goes into the field to figure out what the creatures really are.

With just 90 days to save the world, his search for answers first takes him to Korea, the place where the problem started. The South-East Asian country is now zombie land.

There he meets a former CIA operative who says guns and bombs are only half measures.

His quest for the pandemic cure then leads him to Israel, the only nation not infested by the zombies because of the wall built in Jerusalem. But where
Gerry goes, zombies go!
The smart zombies climb over the wall and into Jerusalem and mayhem ensues.
Another round of bombing and shooting later, Gerry and an Israeli soldier (Daniella Kertesz) manage to escape. But while dodging the zombies, who are 'tearing' into the crowds, he spots something.
Guided by his own
Eureka
moment, Gerry and the soldier, now his only ally in the mission, head to World Health Organisation (WHO) headquarters in Wales to figure out a way to fight these zombies.
Based on a novel by Max L Brooks and directed by Marc Forster, the movie has its moments. It borders on a thriller but eventually just fizzles as yet another predictable tale.
Pitt's saviour character is one-dimensional. The 49-year-old star looks his age -- bags under his eyes, crow's feet, et al.
None of the other characters have much to offer either, except mouthing inane dialogues like 'Mother Nature knows how to disguise her weaknesses as strengths' and 'Mother Nature is a serial killer, and no one's better.'
But the one dialogue that caused peels of laughter in the theatre was 'India is a black hole'. The context in which the lines are said is the infestation of zombies (clarifying just in case pseudo-patriots take offence).
One thing that's noteworthy is the camaraderie and trust that Gerry and the Israeli soldier develop in the middle of all the devastation. It just lends the cold movie some much-needed heart.
To the readers: Watch it only if
*You have miraculously made some extra money and are desperate to spend it.
*You are a science student who wants to take up zombies as your case study
*You are a HUGE Brad Pitt fan.
Rediff Rating: