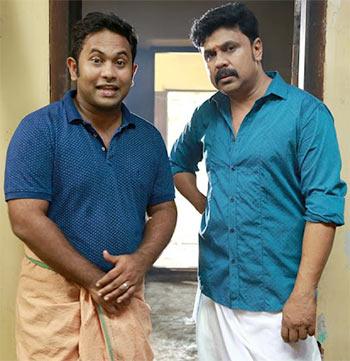 Welcome to Central Jail is a typical Dileep film, which may go down well with his fans only, feels Paresh C Palicha.
The problem with reviewing a Dileep film is that you have to repeat yourself, as he keeps repeating his formula.
There's nothing new to write about his films.
His new film Welcome to Central Jail, directed by Sundardass, is a typical Dileep film.
The story is about Unnikuttan (Dileep), who is born in Poojapura Central Jail, to a couple with a revolutionary background and serving life term.
At the age of 10, he is shifted to a rescue home as the law prohibits a child to be kept in jail with his mother beyond that age. Later, his parents die in jail while serving the term.
When Unni returns to his birthplace as an adult, he takes up the responsibility of the crimes committed by others.
His only condition is that he will not take the responsibility of crimes such as rape and murder.
The jail becomes a place of celebrations when he is around. He is the pet of the inmates and officers in equal measure.
Written by Benny P Nayarambalam, the leading character seems to be created to cater to Dileep's fan base, and not particularly for the story.
Somewhere through the film, it feels as if the plot has run out of steam and Dileep has to drag it to the finish line.
Unni sees Radhika (Vedhika) when he is out on parole and he wants to lead a normal life with her. But when he returns to jail after the parole, he finds Radhika behind bars on drug charges.
The climax is gory to convince rational viewers that the makers have not made a totally outlandish film but have tried to keep some reality in place.
To give the credit where it is due, a few jokes between Ranji Panikar, the prison official, and Dileep are funny.
There is also a reference to culprits who rape women and children, and then enjoy the government's hospitality at the tax payers' cost.
Dileep goes all out as an entertainer to be accepted by his favourite section of viewers: children. But there are many below-the-belt sort of dialogues that make us squirm in our seats.
Welcome to Central Jail is a typical Dileep film, which may go down well with his fans but for the casual viewer, it is a below average film.
Rediff Rating: